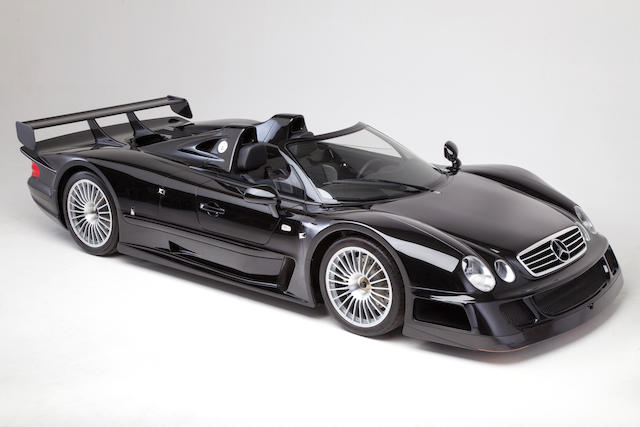 A unique 1999 Mercedes-Benz CLK GTR Roadster is set to cross the auction block at the Bonhams' Goodwood Festival of Speed Sale. One of just six cars ever produced for the street, this CLK GTR Roadster is tipped to sell for between 1.4 million euros and 1.8 million euros ($1.5 – 2 million USD).
No in-depth details about this particular car have been released but it is believed to be the only unit painted in gloss black with the remaining ones finished in silver. Alongside the six Mercedes-Benz CLK GTR Roadster's which were produced, a further two fixed-roof variants were offered to customers. In late 2013, a silver CLK GTR Roadster shifted hands at auction for $1.3 million so it will be interesting to see if this example reaches the expected range.
Beyond the price, the car itself has a long and proud racing pedigree and is extremely similar to the CLK GTR endurance racer. It was brought to life when the German manufacturer created the CLK LM to replace the GTR racer and Mercedes-Benz decided to create 26 road-going CLK GTRs as a final send off.
Beneath the skin, the Mercedes-Benz CLK GTR Roadster's 6.9-litre V12 engine delivers a total of 604 hp and 572 lb-ft of torque. Consequently, it can sprint to 96 km/h in just 3.8 seconds before topping out at a top speed of 320 km/h, figures still impressive to this day!