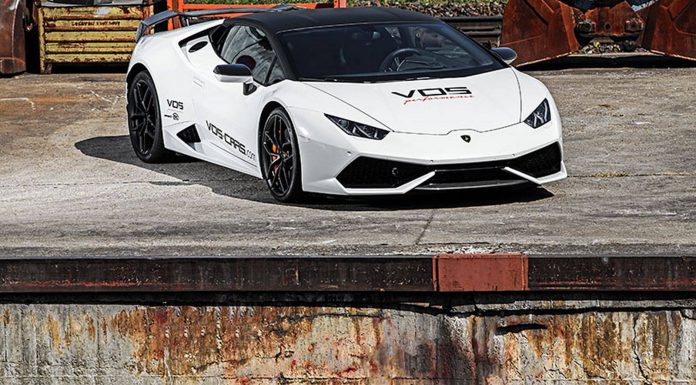 Aftermarket tuner VOS has just unveiled its range of upgrades for the potent Lamborghini Huracan. Compared to some aftermarket kits available for the Huracan, the ones from VOS are relatively understated but equally as noteworthy.
For starters, VOS has unveiled a carbon fibre front lip for the Italian supercar priced at 1590 euros. Additionally, the Huracan can be equipped with carbon fibre rear wing mirror caps for 1290 euros and carbon fibre door handles for 1390 euros. At the rear, upgrades include the installation of an eye-catching wing and a new diffuser.
A selection of components are also offered throughout the Huracan's interior, most notably with a carbon fibre instrument cluster and carbon fibre paddle shifters. Tweaked elements for the centre console are also offered while returning to the exterior, a full carbon fuel cap is available.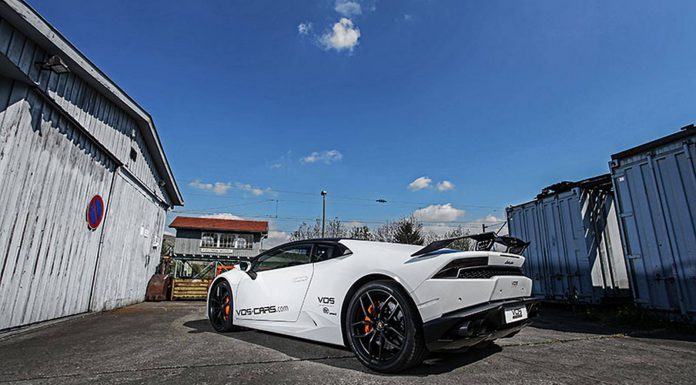 Beyond these visual modifications, VOS offers two different exhaust systems for the Huracan. One is produced in-house by VOS and costs 6900 euros while one created by Akrapovic is also available for order.
[showhide]
"INDIVIDUALITY AS VOS trademark – Lamborghini Huracán
The VOS (= VISION OF SPEED) company in the Swabian city of Neckarwestheim became a talking point all over Germany and across its borders with its formula "Something extraordinary + individual touch = something unique". Perfection in technique and handicraft in combination with almost never ending performance are magic words for the managing director Michael Keller in terms of imperative suitability for daily use. In this sense, the individuality of the different vehicles has become trading mark. Each customer can recognize himself his own thumbprint on his car after "cure" at VOS.
Here and now, we are going to talk about a Lamborghini Huracán. Just like its ancestor – Gallardo – this car is neither a "child of sadness" at all. Allegedly, there are individualists, for whom even a Huracán is not enough of individuality. At least now is the moment of game for VOS, offering for the fighting bull the following in detail named carbon parts.
Let's start with the front lip in fine structured carbon for 1,590.00 Euro. The carbon-made-mirror caps are available for 1,290.00 Euro. The likewise made in fine structure carbon door handle facings cost 1,390.00 Euro. The VOS door sill panels demand 749.00 Euro. The steering wheel in ergonomic design costs in exchange 1,690.00 Euro. Alternatively, there are also offered facings in fine structure carbon for the original steering wheel, demanding 1,290.00 Euro. Concerning the gearshift paddles, one can choose between new parts in full carbon (2,390.00 Euro) or add-on parts in fine structure carbon (1.090.00 Euro). VOS offers also a covering for the instrument cluster as add-on part in full carbon for 1,390.00 Euro. The price label on the facings for the air inlets in fine structure carbon shows 1,890.00 Euro. The upper frame for the center console in full carbon demands 575.00 Euro. The lateral frames for the center console are available for 1,290.00 Euro. Remains the gas cap in full carbon (490.00 Euro), the VOS Performance rear wings for Lamborghini Huracán (7.900.00 Euro), an individual carbon plate for even these rear wings (790.00 Euro) and a facing for the rear diffuser bottom in fine structure carbon (2,990.00 Euro).
There are two exhaust systems available for the Huracán: The company-own valve commanded VOS Performance exhaust system with end pipes for 6,900.00 Euro or the offered beginning at June 2015 and made in cooperation with the worldwide renowned manufacturer of exhaust systems for cars and bikes Akrapovic system for 8,900.00 Euro. In addition, there is available a made by BMC sports air filter for 355.00 Euro.
For the materialization of plans concerning optimization of chassis and suspensions, the interested customers will have to exercise some patience. Therefore there will soon be offered new adjustable rear wings (9,900.00 Euro with technical component report for Germany). Last but not least there is to be mentioned the wheel set for the fighting bull, available beginning approximately at midyear 2015 for 5,900.00 Euro.
"
[/showhide]