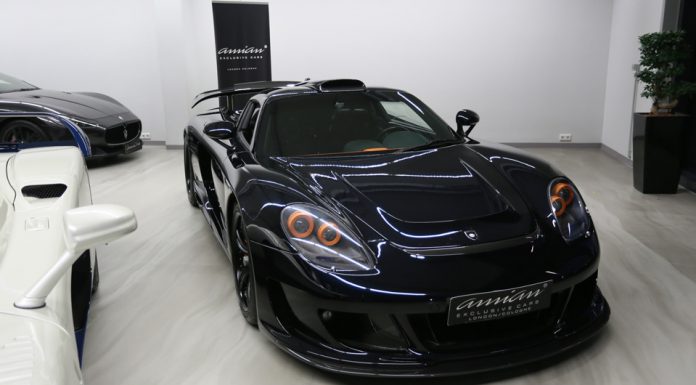 A glorious gloss black Gemballa Mirage GT is currently up for sale courtesy of German exotic car dealership Amian Cars.
This particular Mirage GT has covered 12086 miles and has previously had two owners. As with all Mirage GT's, it based around the iconic Porsche Carrera GT and features a seemingly never ending list of visual and mechanical modifications and tweaks.
From a visual standpoint, it includes a plethora of custom body panels including a new front fascia with different air intakes and a new lower splitter. Additionally, the front includes a different bonnet while a prominent roof scoop, entirely revised decklid and a modified rear end are also featured. This particular Mirage GT features bright orange accents across both the exterior and in the cabin to contrast the gloss paint and black leather adorning the cabin.
As a reminder, the Gemballa Mirage GT features a massaged variant of the Carrera GT's 5.7-litre naturally-aspirated V10 engine to deliver 670 hp and 630 Nm of torque instead of the standard 612 hp and 590 Nm.