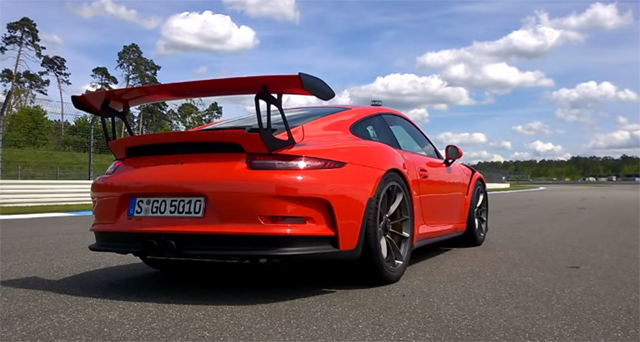 Whenever Porsche's GT division creates a potent new road car, it is inevitable that it will be brutally potent. The latest car from Porsche GT is the 2016 911 GT3 RS and the car recently headed onto the Hockenheim Formula One circuit for some high speed testing.
[youtube]https://www.youtube.com/watch?v=KLkehF9c5eU[/youtube]
The 2016 Porsche 911 GT3 RS of course uses a brand new 4.0-litre six-cylinder engine which remains naturally aspirated. It has been tuned to deliver 493 hp (the same as the 997 GT3 RS 4.0) but now delivers 384 lb-ft of torque which is 15 lb-ft more than the GT3 RS 4.0. Additionally, these figures represent a 25 hp and 60 lb-ft increase over the current 911 GT3.
As always, the new Porsche 911 GT3 RS features rear wheel drive and the aforementioned six-cylinder engine is coupled to a seven-speed dual-clutch PDK transmission. As a result, the German sports car will accelerate to 100 km/h in a mere 3.3 seconds and crack the 200 km/h mark in just 10.9 seconds. By comparison, the old 911 GT3 RS needed 3.9 seconds to hit 100 km/h.