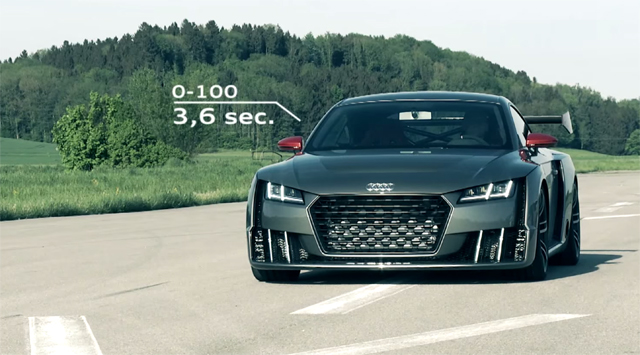 The potent Audi TT Clubsport Turbo Concept has just made its video debut as part of the ongoing Worthersee Meeting 2015. The clip provides the perfect balance between beauty shots of the German sports car as well as rolling shots to highlight the screaming engine beneath the bonnet.
[youtube]https://www.youtube.com/watch?v=ptNpgZqfENU[/youtube]
Powering the Audi TT Clubsport Turbo Concept is a 2.5-litre TFSI five-cylinder engine baring similarities to the road-going TT. However, the engine makes use of a potent electric biturbo system that supplies more power and torque to the engine. As a result, the new show car develops a total of 600 hp and 650 Nm of torque enabling it to sprint from naught to 100 km/h in just 3.6 seconds before achieving a top speed of 310 km/h.
The new electrically powered compressor eliminates any turbo lag that is found in a conventional turbocharger system. The e-turbo is able to provide quick responses at all times with quick sprints as well. When placed against counterparts that lack this technology, the new TT Clubsport Turbo Concept pulls away quickly with little effort even at low engine speeds.
There is also a 48 volt electrical sub-system that feeds electrical energy to the turbocharger and at low speeds, the electrically powered compressor will provide up to 200 Nm of torque. A lithium-ion battery is used to store the energy generated while coasting which is in turn used by the e-turbo. The 2.5 TFSI engine then features a racing-type radiator which is used for cooling and the exhaust system is specially designed for minimal back pressure.