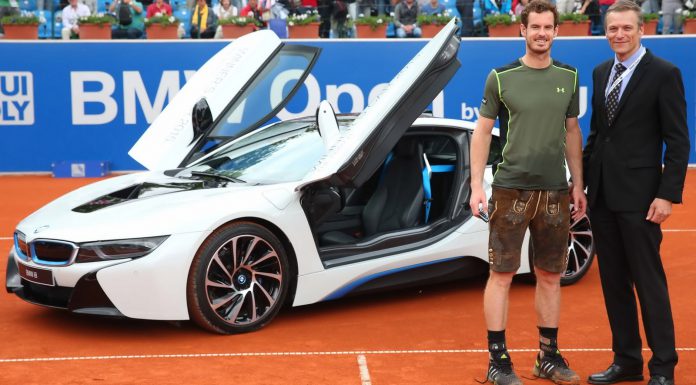 Tennis ace Andy Murray has just been handed the keys to a brand new white BMW i8 after winning the BMW Open. Murray's win also represents his first ATP title on a clay surface.
Discussing the title, Murray said "This title means an awful lot to me. I really enjoyed the week here in Munich. It was a magnificent tournament. Philipp was actually the better player in the third set today, but the key points went my way."
BMW's head of sales and marketing Peter van Binsbergen extended on this by saying "Congratulations to Andy Murray on his victory at the 100th anniversary of this tournament. We now look ahead with great joy to 2016 and the next anniversary: the 100th anniversary of BMW. I hope Andy Murray enjoys driving the BMW i8."
As a reminder, the BMW i8 is of course the second model from BMW's new BMW i-Series. The drive system utilises a brand new three-cylinder petrol engine with BMW TwinPower Turbo technology. From 1.5 litres, the i8 manages an output of 231 hp, a maximum torque of 320 Nm. Power is sent to the rear wheels via a six-speed automatic gearbox. The petrol engine is supplemented by an electric motor with an output of 131 hp and maximum torque of 250 Nm.