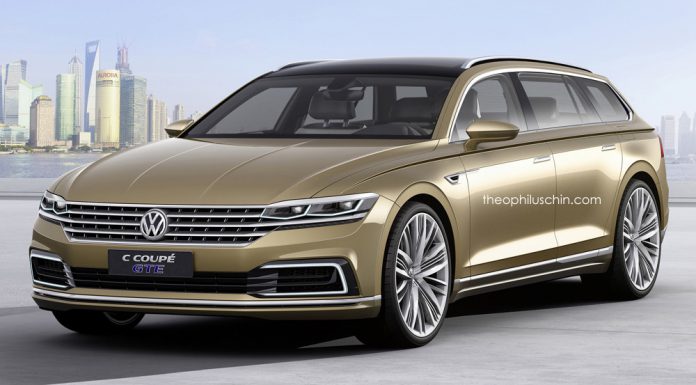 Not too long after it was confirmed that the Volkswagen C Coupe GTE Concept will reach the production line in China, Theophilus Chin has released a couple of renderings of the car in Estate form. Unsurprisingly, its sharp and edgy design works quite well as an Estate!
One of the reasons why the Volkswagen C Coupe GTE is being launched in China is because the local government offers a range of incentives for 'New Energy Vehicles'. As part of the program, subsidies are offered from the Chinese government for vehicles that have the ability to drive 50 km in zero-emissions mode. When the car launches, it will become one of over 15 models produced in China by the Volkswagen Group including the recently announced Audi A6 L e-tron.
Powering the Volkswagen C Coupe GTE Concept is a plug-in hybrid powertrain. This powertrain combines a turbocharged four-cylinder TFSI petrol engine mated to an electric motor. The petrol engine alone produces 210 hp while the electric motor adds 124 hp with cumulative torque then sitting at 369 lb-ft. Combined fuel consumption sits at 2.3 litres per 100 km or 102 mpg equalling 55 g/km of CO2 emissions. For added efficiency, the C Coupe GTE Concept can travel for 49 km (31 miles) purely on electric power at speeds of up to 130 km/h (81 mph). The powertrain is then mated to an eight-speed automatic transmission.