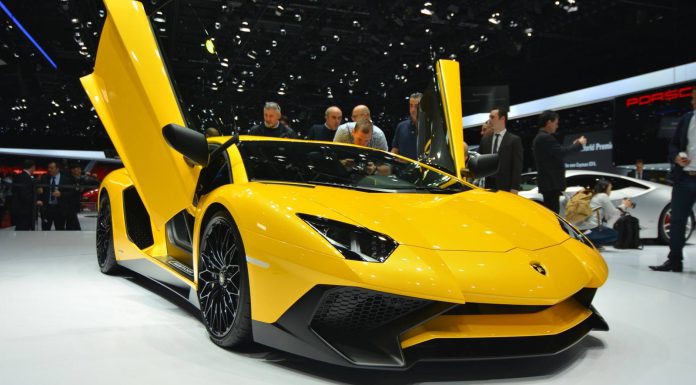 At the Shanghai Motor Show 2015, it has been confirmed that production of the potent Lamborghini Aventador LP750-4 SV will be capped to 600 units.
To put that figure into perspective, the Italian marque initially announced that 350 examples of the Lamborghini Murcielago LP670-4 SV would be produced. Due to Lamborghini switching its priority to retooling its factory for the Aventador however, production of the Murcielago SV was reportedly cut to 186 units.
In case you didn't know, the Lamborghini Aventador LP750-4 SV's 6.5-litre V12 engine gets a modest power boost of 50 hp together with a weight reduction of 50 kg. The top speed is now 350 km/h and the 0-100 km/h time drops, as mentioned, from 2.9 seconds to 2.8 seconds. Torque remains at 507 lb-ft at 5,500 rpm and peak rpm rises to 8,500 rpm.
The aforementioned weight reduction is achieved through the use of carbon fibre for parts including the engine bay cover, rear wing, wing panels, interior door panels, bucket sports seats and air intakes. Carpets and noise insulation have also been taken out, as has the multimedia system which can be put back in at no extra cost.
The Lamborghini Aventador SV also gets forged centre-locking lightweight alloy wheels measuring 20 inches at the front and 21 inches at the rear. Carbon ceramic brakes and Pirelli P Zero Corsa sports tyres come as standard.