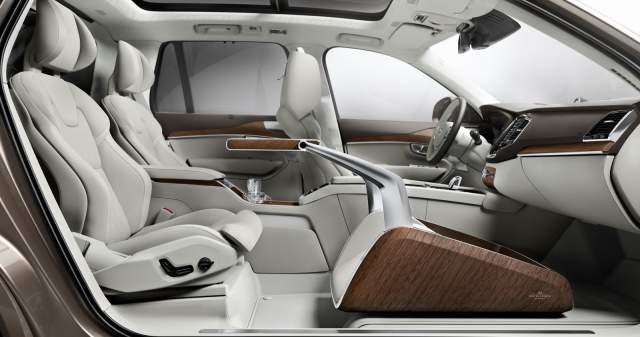 The Volvo XC90 Lounge Console Interior Concept has just been unveiled at the Shanghai Motor Show 2015. The car is based around the range-topping XC90 Excellence also revealed at the show but as the name implies, utilises what the Swedish marque dubs a 'lounge console'.
That console takes the place of the regular passenger seat and adds a very unique element and sense of luxury to the car. The console itself includes a large retractable wooden table as well as offering a large vanity mirror and a storage tray to accommodate jewellery and other personal items. It also allows the passenger side occupant at the rear extra legroom and the opportunity to use part of the lounge console as a foot rest. Elsewhere, the console incorporates a 17-inch media display.
Discussing the car, senior vice president of design at Volvo, Thomas Ingenlath said "We started this work by looking at the executive lifestyle. With our progressive approach to premium design and functionality we analyzed the needs and perspective of the chauffeur driven executive, designing the car around him or her in the spirit of our brand's aim. A key element in cxzDAzxa dour thinking was how to make the available interior space work for the occupants in an optimal and luxurious fashion. Removing the passenger seat enabled us to create an open space that dramatically changes the dynamics of the interior and led to a firework of ideas and new possibilities.
"The intention with this concept is to showcase two things – firstly that Volvo Cars is aware of the needs of our executive customers and secondly, that with design innovation and modern materials we can effectively create passenger experience that is unique in the premium car segment.
"People who are on the move and have a hectic lifestyle going from event to event or meeting to meeting need some space, some luxury time, and the opportunity to relax and refresh themselves for the next engagement. This is ultimately what the Lounge Console is designed to facilitate," said Ingenlath.