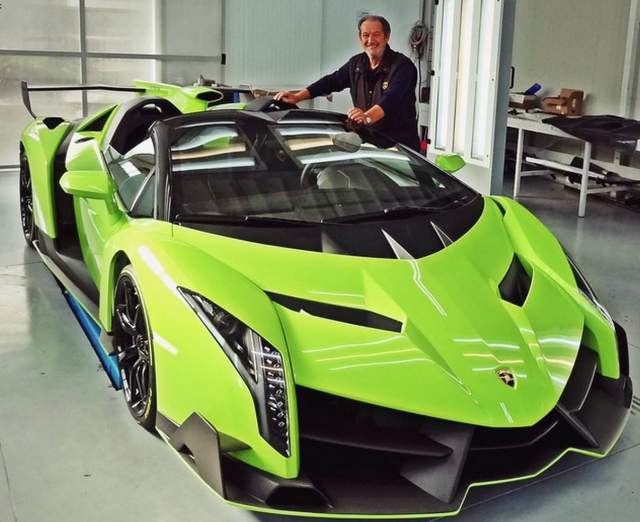 A couple of images of arguably the world's brightest and boldest Lamborghini Veneno Roadster have been posted online.
The Veneno Roadster in question has been painted in Verde Singh, a shade of lime green created and made famous by Lamborghini Veneno coupe owner Kris Singh for his Lamborghini Aventador LP720-4 50th Anniversario Roadster. While the Veneno Roadster in question is finished in Kris's signature shade of green, he has confirmed on his Instagram feed that the car isn't his. Either way, former Lamborghini chief test driver Valentino Balboni is clearly quite happy to pose next to it!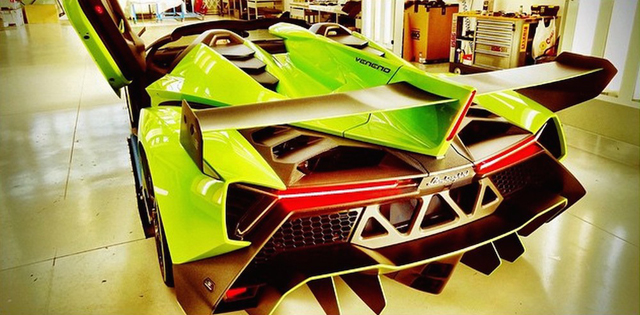 Just nine examples of the Veneno Roadster will be produced and despite this being more than the three production Veneno Coupes, the Roadster costs 10 per cent more at $4.4 million.
So what do you get for your money? The package is very similar to the Veneno which itself, takes inspiration from the Aventador. The engine is the Aventador's new 6.5 litre V12 unit, uprated to 750 hp in the Veneno Roadster. Power is driven through an all-wheel drive system via a modified ISR transmission. Five settings are available with pushrod suspension and horizontal sprint/damper units.
Elsewhere, the car features a monocoque made from carbon fibre reinforced polymer. All body components are also CFRP making it extremely lightweight. It is compliant with all road safety regimes worldwide and features a full raft of safety features from airbags through to adapted ESP handling system.