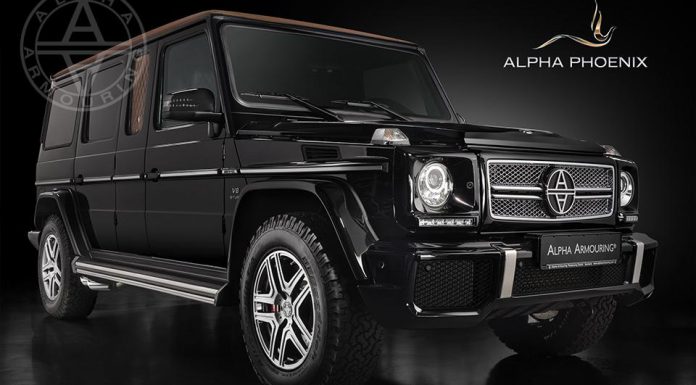 At the ongoing Top Marques Monaco 2015 show in Monte Carlo, Alpha Armouring has unveiled its Mercedes-Benz G63 AMG based Phoenix. As the name of the company implies, the G63 AMG in question has undergone a number of comprehensive structural changes alongside some new luxurious throughout the cabin.
Alpha Armouring hasn't revealed extensive details about the armour applied to the Phoenix G63 AMG other than confirming that it is there and that a fire extinguishing system has been installed for the engine bay.
Elsewhere, the car is actually 45 cm longer than a standard Mercedes-Benz G63 AMG and as a result, rear passengers are afforded significantly more space. Making use of this extra space, Alpha Armouring has installed a prominent partition wall as well as a small fridge and a 34-inch TV. Additionally, a Mac Mini computer has been installed alongside an iPad and an upgraded surround sound system.
Moreover, the Alpha Armourning Phoenix includes an intercom system for rear passengers to communicate with the front and another projecting the sounds to people outside the car.
As a testament to how comprehensive the upgrades are, it takes between six and eight months to transform a 'regular' G63 AMG into a Phoenix.