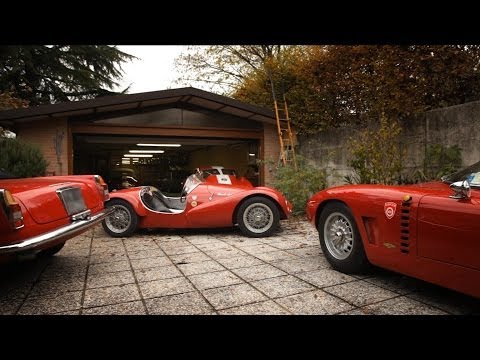 Recently the Italian Locals Magazine had a chance to portray Luciano Rupolo. Mr. Rupolo was born and raised in a car related environment, and worked early on in the family's own automobile mechanic shop. As a mechanic aswell as a racer he became successful. Today he is especially known for his classic car collection. Next to an original Mini, Alfa Romeos, a Ferrari 250 GT/E and a Porsche 356, he also owns a Iso Grifo AC3 Competizione. This car raced the 12 hours of Sebring in 1965 where it crashed. After the crash the car was modified and at some point abbandoned. Rupolo brought this car back to life together with its original designer Giotto Bizzarrini. This restauration needed 15 years until completition.
[youtube]https://www.youtube.com/watch?v=ZoBFcV0WyWw[/youtube]
Next to Italian race cars he also rescued the oldest registered Porsche from a garage in Vittorio Veneto, Northern Italy. After years the car was sold in 2012 due to financial problems to an anonymous buyer.
But the best part is, that Luciano Rupolo, contrary to a lot of classic car collectors, still drives his classics like they were meant to be driven. Like his first car a 1951 Giannini 750 Barchetta, which was a full on racecar but back then he used it on public roads. He admits though that it was not always according to the law.