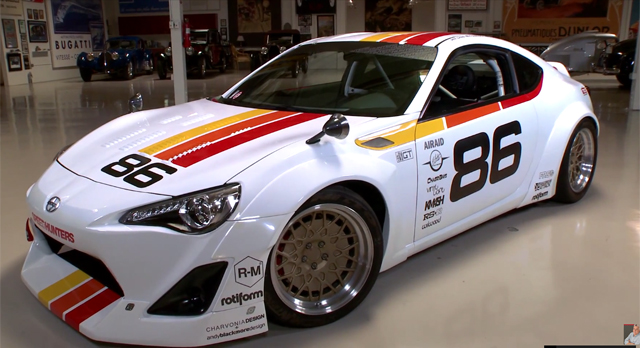 At last year's SEMA show, Speedhunters unveiled its bespoke Scion FR-S as part of the Scion Tuner Challenge. Recently, Jay Leno got behind the wheel of the custom Japanese sports car in the latest episode of Jay Leno's Garage and despite being made in just 90 days as part of the challenge, the Speedhunters FR-S is exceptionally capable.
The Speedhunters Scion FR-S was unveiled alongside an FR-S from Super Street as well as another from GT Channel. Each is completely bespoke and unlike the others.
[youtube]https://www.youtube.com/watch?v=6EIX0muT75s[/youtube]
As for the Scion FR-S from Speedhunters, it is finished in white and looks fit for racing. It includes a custom front splitter, a widebody kit, new ducktail bootlid spoiler, a racing livery and tinted taillights alongside a new rear diffuser. It has been fitted with a supercharger courtesy of Cosworth and a three-inch exhaust system alongside a selection of interior upgrades.
Thanks to the new Cosworth supercharger, the Scion FR-S from Speedhunters pumps out a potent 300 hp at the rear wheels.