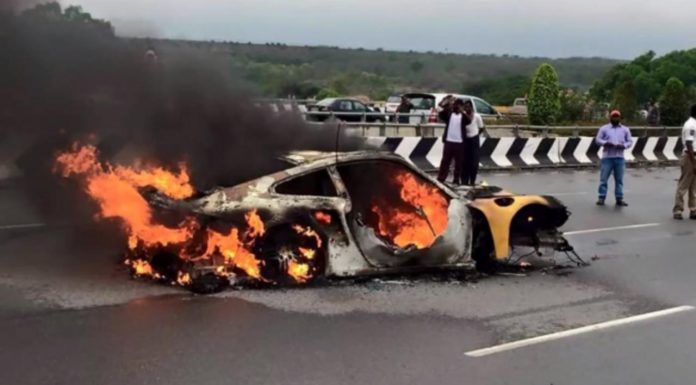 A bright yellow 997-generation Porsche 911 Turbo has been destroyed by fire after crashing heavily in the Indian city of Hyderabad.
It is believed that the Porsche 911 Turbo in question was the only yellow example in India and as the pictures and video show, the inferno destroyed the German sports car beyond repair.
It is reported that the driver of the 911 Turbo lost control at approximately 250 km/h as the car began to aquaplane and slide out of control. After losing control, the driver and local businessman, R Ravi Kumar and the 911 speared into the crash barrier.
[youtube]https://www.youtube.com/watch?v=crNA_qhpKSU[/youtube]
Before long, the entire car was on fire after the impact but thankfully, the driver managed to escape without injury. The same cannot be said about the 911 Turbo however.
As evidenced by the pictures, the car was completely destroyed by the fire with local fire crews only managing to douse the flames once the car was nothing but a metal shell of its former self.