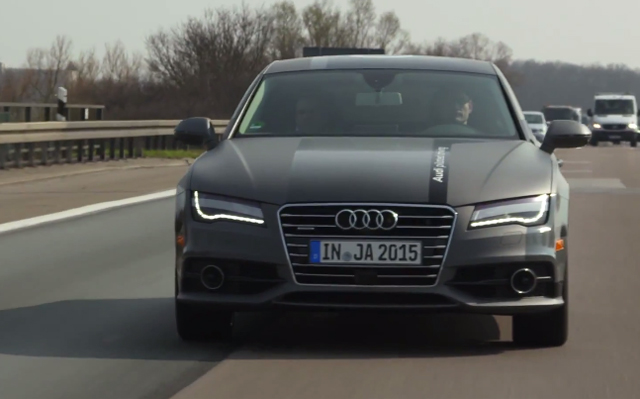 Earlier in the year, the Audi A7 Piloted Driving Concept embarked on a journey from Silicon Valley through to Las Vegas for the Consumer Electronics Show 2015. Now the concept recently headed to Germany for some autonomous driving along the famous Autobahn.
As part of the drive, Germany's Minister of Transport, Alexander Dobrindt got into the driver's seat to see what all the fuss is about with completely autonomous vehicles.
[youtube]https://www.youtube.com/watch?v=nOPi6XFtRu0[/youtube]
As you'd imagine, Dobrindt was quite impressed with the technology and said "Automated driving is not something out of science fiction. In a few years there will be piloted vehicles driving on the roads. Digital technology can assume tasks from the driver and provide enhanced safety and convenience. The long term goal is completely networked roads. Traffic jams and environmental pollution will be reduced, traffic safety increased and the infrastructure used to optimum capacity.
"I see big opportunities for Germany as a location for innovation and industry. Our automotive industry has the most attractive products in the world. Our goal must be to remain a world leader, including for automated driving."
Allowing the Audi A7 Piloted Driving Concept to drive itself are a plethora of advanced features including ultrasonic sensors, a front mounted camera, infrared camera and front radar sensors. These are used for systems like the adaptive cruise control, lane assist, parking assist, night vision and Audi pre sense safety.
[showhide]
Federal Minister of Transport Dobrindt tests piloted Audi
Test drive under realistic conditions on Autobahn A9: Audi A7* drives autonomously – including lane changes and passing
Minister of Transport Dobrindt: "Automated driving is not something out of science fiction. I see big opportunities for Germany as a location for innovation."
Audi Head of Development Prof. Dr. Hackenberg: "demonstration of the potential of piloted driving"
Alexander Dobrindt satisfied himself of the technical capabilities of the Audi A7 piloted driving concept on Friday. The Federal Minister of Transport and Digital Infrastructure accepted an invitation from AUDI AG to experience the technology of piloted driving first-hand.
Minister of Transport Dobrindt after his ride in the test vehicle, "Jack." "Automated driving is not something out of science fiction. In a few years there will be piloted vehicles driving on the roads. Digital technology can assume tasks from the driver and provide enhanced safety and convenience. The long term goal is completely networked roads. Traffic jams and environmental pollution will be reduced, traffic safety increased and the infrastructure used to optimum capacity. I see big opportunities for Germany as a location for innovation and industry. Our automotive industry has the most attractive products in the world. Our goal must be to remain a world leader, including for automated driving," explained Dobrindt, who has officially declared a section of Autobahn A9 to be a high-tech superhighway. It will serve as a test bed for the networked automobile of the future.
Prof. Dr. Ulrich Hackenberg, Member of the Board of Management of AUDI AG, Technical Development, considers the test drive with Minister Dobrindt to be "a further demonstration of the technical maturity and potential of piloted driving," which Audi will offer in the Audi A8* in an initial expansion stage beginning in 2017. He welcomed the political support. "This will enable a key technology from Germany to also find its leading market at home."
Hackenberg sees three primary areas of application for this use of artificial intelligence in automobiles. "On the one hand for the prevention of accidents: When the driver is overwhelmed and there is the risk of losing control or when he or she is bored because the trip is too monotonous. On the other hand also when the driver can and wants to make more effective use of his or her time, such as when sitting in a traffic jam. Less stress, greater safety and more convenience are the results." It is now important that legislators work together with legal, regulatory and industry experts to pave the way for the authorization of such systems.
Audi continues to document its progress with this technology with spectacular demonstrations. In the United States, a driverless Audi TTS* etched the brand's trademark four rings into the surface of a salt flat and also conquered Pikes Peak in the Rocky Mountains. In fall 2014, an RS 7 Sportback* circled the Hockenheim racetrack without a driver at the physical limits of driving. Since the start of this year, Audi has been demonstrating the next steps in piloted driving on public roads, for example under realistic traffic conditions on an American highway from the West Coast to Las Vegas.
The function for piloted driving in traffic jams, which Audi is currently moving to production, is based on existing assistance systems such as Audi adaptive cruise control and traffic jam assist. At speeds between 0 and 65 km/h (40.4 mph), the system will take over acceleration, braking and steering from the driver, if desired, providing some relief from stress in congested highway traffic. When the traffic jam dissolves or the road ends, the computer prompts the driver to take over the driving again.
The super brain of piloted driving is the central driver assistance control unit (zFAS). It uses state-of-the-art, high-performance processors to evaluate the signals from all sensors in real time and compute maneuvers. A radar system scans the area in front of the car while a video camera detects lane markings, guardrails, pedestrians and other vehicles. A laser scanner delivers high-precision data about objects up to 80 meters (262.5 ft) away. Furthermore, as many as twelve ultrasonic sensors and four cameras monitor the entire area surrounding the car. The zFAS then uses all these sensor data to compute a model of the surroundings that describes the prevailing traffic situation in great detail. This enables very early detection by the system of vehicles moving into the lane in front of the vehicle, for example.
This means that Audi already has the series technology for the first piloted driving systems available. The new functions made possible because of them can significantly expand the role of the car as an emotional, convenient and modern living space. Audi is fully devoted to this issue because in addition to the increase in safety, the gain in convenience brings along a substantial customer benefit with it.
[/showhide]