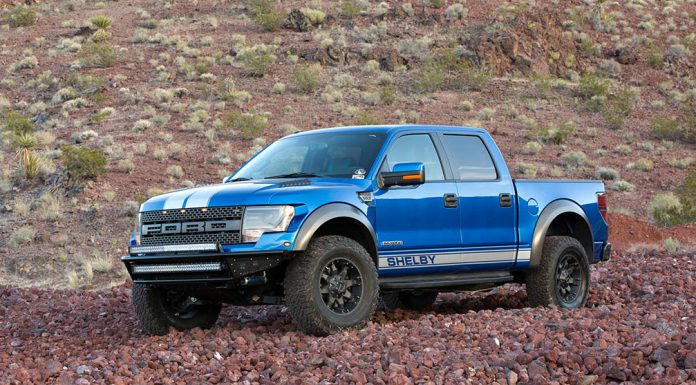 For most, the outgoing Ford F-150 SVT Raptor is extreme enough with bold and aggressive styling as well as mind-blowing off-road performance. Nevertheless, Shelby American has just unveiled its beefed up Raptor with the release of the Shelby American Baja 700.
Beneath the skin, Shelby has outfitted the 6.2-litre V8 engine with a large 2.9-litre Whipple supercharger. Additionally, bigger throttle bodies, new heat exchangers and a Borla exhaust system have been installed resulting in a total of 700 hp. To put that into perspective, the standard F-150 SVT Raptor delivers a still respectable 411 hp.
Beyond the engine modifications, Shelby American has also focused extensively on the vehicle's suspension system. While details about the suspension modifications are limited, they do promise to make the Baja 700 exceptionally capable off the beaten path thanks to the 3-inch King coilovers, bypass rear shocks and Rogue Racing upper and lower control arms.
Elsewhere, a set of 18×9 inch matte black wheels have been installed alongside 235 mm wide BFGoodrich K02 tyres as well as a number of other design features like the Rogue Racing front and rear bumper.
Existing Ford F-150 SVT Raptor owners will have to pay at least $45,000 for the extensive Shelby American Baja 700 upgrades.