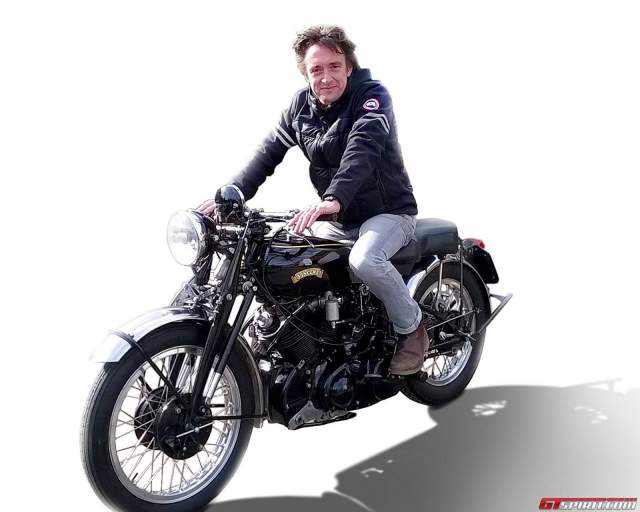 Twelve motorcycles belonging to former Top Gear presenters Richard Hammond and James May are to go under the hammer at Bonhams Spring Stafford Sale.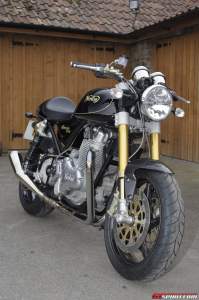 Top of their lots is a 2010 Norton Commando 961SE, pictured left, being sold by Hammond with an estimate of £14,500-£18,500.
May and Hammond, who declined to renew their Top Gear contracts after colleague Jeremy Clarkson's was not renewed following a clash with a producer, discussed the sale of their respective motorcycles in their usual humorous manner.
May said: "Just because I'm unemployed now doesn't mean I have to get rid of everything. I was going to sell these bikes anyway. And those paintings, and my collection of Scalextric cars. Honest!"
Hammond added: "As a serious collector of motorcycles, it's important to review one's stable regularly, and the Bonhams Stafford sale is the ideal opportunity to move bikes on and possibly acquire new ones. I also have a canoe, and some Wharfedale hi-fi speakers, if anyone's interested."

Ben Walker, Bonhams International Head of Motorcycles, said: "Jokes aside, James and Richard are offering for sale some great motorcycles from their collections, including examples of Yamaha, Suzuki, Honda and Norton – and we expect the collection to attract a lot of attention." He said they both elected to consign their collections with Bonhams "many months ago".
The Hammond and May motorcycles featured in Bonhams Stafford Sale are: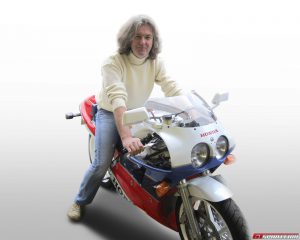 James May (pictured left on a Honda RC 30):
• Lot 326: 1974 Yamaha 49cc FS1-E – £2,000-2,400
• Lot 327: 1976 Suzuki AP50 E – £2,000-2,400
• Lot 328: 1980 Ossa 250cc MAR Trials Motorcycle – £1,200-1,500
• Lot 329: 1979 Suzuki TS250 – £800-1,200
• Lot 330: 1973 Honda CD175 – £1,400-1,800
• Lot 331: 1975 Honda CB200 – £1,500-1,800
• Lot 332: 1971 Kawasaki 250cc A1 Samurai – £5,000-6,000
• Lot 333: 2010 Yamaha SR400 'Grievous Angel' by Deus Ex Machina – £8,000-12,000
Richard Hammond (pictured top on a Vincent Black Shadow):
• Lot 334: 1977 Honda GL1000 Gold Wing – £4,000-6,000
• Lot 335: 2010 Norton Commando 961SE – £14,500-18,500
• Lot 336: 1970 Triton 500cc 'Café Racer' – £6,500-8,500
• Lot 337: 1975 Yamaha 49cc FS1-E – £2,500-3,500
Bonhams Spring Stafford Sale takes place at the International Classic MotorCycle Show, Staffordshire County Showground, on April 26. Viewing 10am-5pm Saturday April 25. For further information and a full lot listing visit www.bonhams.com/22720
Note: The pictures of May and Hammond on their motorcycles are part of their personal collections and not in the sale.