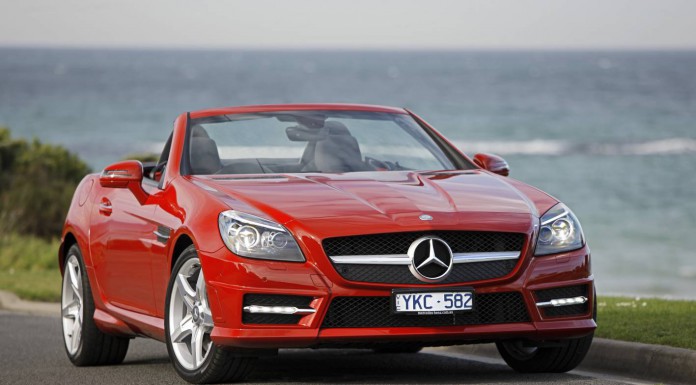 While Mercedes-Benz is currently developing a facelifted version of the SLK sports car as well as a successor branded the SLC, the German marque has just announced a selection of new engine and gearbox options for the current SLK.
The entry-level Mercedes-Benz SLK200 utilises an inline four-cylinder 2.0-litre engine delivering 184 hp and 300 Nm of torque, 30 Nm more than the outgoing car. As a result, it will reach 100 km/h in a respectable 6.9 seconds. Next up in the range is the Mercedes-Benz SLK250d. It utilises a 2.1-litre four-cylinder diesel engine with 204 hp and 500 Nm of torque resulting in a 6.6 second sprint to 100 km/h. Fuel consumption sits at a mere 4.4-litres of petrol per 100 km.
The Mercedes-Benz SLK300 then comes into the fold as a direct replacement for the SLK250. Its 2.0-litre four-cylinder produces 245 hp and 370 Nm meaning it'll reach 100 km/h in 5.8 seconds. For the SLK300, fuel consumption is 5.8-litres per 100 km. As for the SLK350, its 3.5-litre V6 extracts 306 hp and 370 Nm while the range-topping SLK55 AMG still features a 5.5-litre V8 with 421 hp and 540 Nm. It'll rocket to 100 km/h in just 4.6 seconds.
As for transmissions, the SLK200 comes standard with a six-speed manual while the other models utilise the German marque's new nine-speed 9G-Tronic automatic transmission. The entry-level SLK200 is available with this 'box as an option.
Other changes to the refreshed SLK includes new LED daytime running lights, an engine stop/start system to cut emissions as well as assistance and safety systems like Attention Assist, Distronic Plus and Collision Prevention Assist Plus.
[showhide]
Mercedes-Benz is sending the SLK into the summer roadster season. The two-seater sports car now boasts powerful new engines and transmissions, and excels with exemplary efficiency. The new model year SLK is available to order now.
In 1996 Mercedes-Benz redefined the roadster with the innovative vario-roof, and combined open-air driving pleasure with uncompromised comfort in poor weather. For the new model year of the SLK, Mercedes-Benz has once again combined passion with good sense to appeal to both the heart and mind.
This is impressively demonstrated by the SLK 250 d. Like its predecessor, it develops an output of 150 kW (204 hp), and thanks to its high torque of 500 Nm the two-seater accelerates from a standstill to 100 km/h in a brisk 6.6 seconds. Moreover, 0.4 of a litre less fuel per 100 kilometres now flows through the injection system of the four-cylinder power unit. Its combined average consumption (NEDC) is 4.4 litres of diesel fuel. This corresponds to CO2 emissions of 114 grams per kilometre. This makes the SLK 250 d the most environmentally friendly roadster in its performance class. In the other four-cylinder SLK models, a new engine generation with 3rd-generation direct injection and multi-spark ignition ensures sporty driving enjoyment. In the SLK 200, the four-cylinder engine generates135 kW (184 hp) from a displacement of 1991 cc and torque of 300 Nm – this is 30 Nm more than the preceding model. In the new SLK 300, which replaces the SLK 250, the output from the same displacement increases by 30 kW versus the preceding model, to 180 kW (245 hp). At the same time torque is increased by 60 Nm to 370 Nm.
As standard Mercedes-Benz combines the SLK 200 with a new 6-speed manual transmission which excels with a high level of gearshift comfort and precise travel. The new SLK 300 and the SLK 250 d on the other hand are equipped with the new nine-speed 9G-TRONIC automatic transmission as standard. This allows very fast gear changes – especially in Manual mode – and also lower engine speeds. This has a particularly beneficial effect on efficiency and noise comfort. Optionally the SLK 200 is also available with the innovative 9G-TRONIC.
The 9G-TRONIC transmission comes with a newly designed, sporty DIRECT SELECT lever on the centre console, as well as steering wheel gearshift paddles.
All the SLK engines feature the ECO start/stop function and meet the EU6 emissions standard. This also applies to the six-cylinder engines of the SLK 350 and SLK 55 AMG, which round off the SLK family.
The extended standard equipment of the SLK includes LED daytime running lamps in a rod design. An LTE-capable exterior onboard aerial is also new in conjunction with the optionally available convenience telephony. The high transfer rates of this new, high-performance mobile radio standard allow an even better quality of reception and transmission. This also benefits the performance of the COMAND Online multimedia system with extremely fast internet access and intuitive operation.
The range of assistance and safety systems, from ATTENTION ASSIST to DISTRONIC PLUS incl. COLLISION PREVENTION ASSIST PLUS, is likewise impressive. The latter system features automatic proximity control, a collision warning function including Adaptive Brake Assist and initiation of autonomous partial braking if the driver fails to react. Blind Spot Assist and Lane Keeping Assist are also optionally available.
Two new paint finishes, "selenite grey metallic" and "designo cerussite grey magno", add a breath of fresh summer air to the colour range available for the SLK.
A feature that continues to be unique to the SLK is the panoramic vario-roof with MAGIC SKY CONTROL – this glass roof is lightened or darkened at the touch of a button. This means that it provides an open-air feeling at any time, but when required gives welcome shade under a hot sun.
The classic strengths of the SLK also include its well-designed boot, which at 335 litres has easily the highest capacity in this segment, and a very sporty suspension which demands no compromises in terms of comfort. The standard suspension already ensures agility and comfort on long journeys. The optional Dynamic Handling package with adaptive damping system, Direct-Steer system, ESP® Dynamic Cornering Assist and suspension lowered by ten millimetres all enable outstanding handling dynamics and make sure that the SLK not only excels on the handling circuit, but also when it comes to comfort.
Despite the increased performance and new technical features, the prices for the SLK have only increased slightly.
Model
Cyl.
cc
kW/hp
Nm
0-100 km/h in sec.
Fuel cons.
Litres*
CO2
g/km
Price in
euros **
SLK 200
4/in-line
1991
135/184
300
6.9
5.7
133
39,656.75
SLK 300
4/in-line
1991
180/245
370
5.8
5.8
134
46,054
SLK 350
V6
3498
225/306
370
5.6
7.2
167
53,222.75
SLK 55 AMG
V8
5461
310/421
540
4.6
8.4
195
73,720.50
SLK 250 d
4/in-line
2143
150/204
500
6.6
4.4
114
43,375.50
*NEDC, combined.
** Prices in Germany inclusive of 19% VAT
[/showhide]