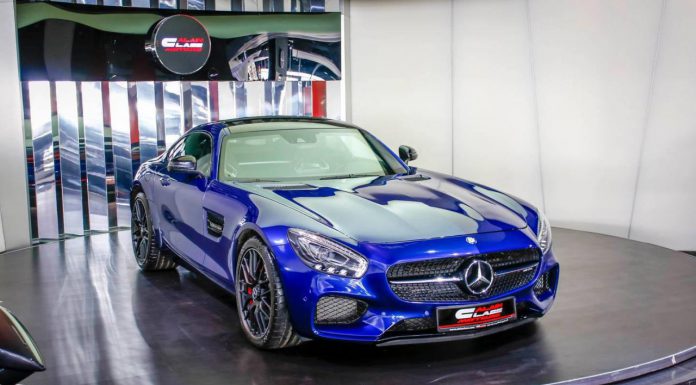 The first examples of the brand new 2015 Mercedes-AMG GT and GT S models are beginning to ship around the world and leading exotic car dealer, Al Ain Class Motors in Dubai is currently displaying an exceptionally eye-catching model.
This particular Mercedes-AMG GT S is finished in Brilliant Blue Metallic, a colour which works absolutely perfectly with the flowing, curvaceous yet still aggressive lines of the German firm's latest front-engined sports car. For AMG GT and GT S buyers interested in this colour, it costs an additional $720 in the U.S. over standard metallic finishes.
Beyond the blue exterior finish, this Mercedes-AMG GT S is also rolling on a set of matte black sports wheels and utilises bold red brake calipers. Gloss black wing mirrors are also featured. The cabin then incorporates Red Pepper and Black Exclusive Nappa leather throughout at an additional $3600.
As a reminder, the 2015 Mercedes-AMG GT S utilises a twin-turbocharged 4.0-litre V8 engine pumping out a total of 510 hp and 479 lb-ft of torque. As a result, the car reaches 100 km/h in 3.8 seconds as well as a 310 km/h top speed.