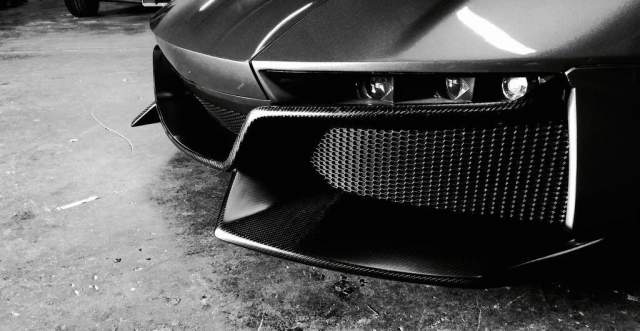 A second teaser image of the production-spec 2015 Revzani Beast sports car has been released. The publication of this teaser comes one week after the initial teaser was posted by the niche automaker.
Whereas the original teaser showed the rear of the car, this latest teaser shows the aggressive front bumper and headlight design. Just like the rear-end, changes appear very limited compared to the Revzani Beast concept previewed through numerous official renderings last year.
With that in mind, an aggressive and eye-catching carbon fibre front bumper can be seen with it including prominent carbon air intake surrounds. Slim headlights have also been installed with them seemingly incorporating three different sections in a slightly different design than the original concept.
When production of the Rezvani Beast kicks off, it will be based around the Ariel Atom with a complete body designed by Samir Sadikov, previously a finalist of the Ferrari World Design Contest. From a visual standpoint, the concept car looked unlike any other on the market with wheels clearly inspired by the twisting design from the Lamborghini Egoista and now mimicked by many aftermarket wheel manufacturers.
Two different variants of the Rezvani Beast will be produced. The first is dubbed the Beast 300 and it features a 2.0-liter turbocharged four-cylinder engine delivering 315 hp and consequently, it can hit 96 km/h (60 mph) in a mere 2.9 seconds thanks to the mere kerb weight of 666 kg (perhaps this is why it's called the Beast!). The second, and more potent variant, is dubbed the Rezvani Beast 500. It features a 2.4-liter supercharged mid-mounted engine delivering 500 hp and should hit 96 km/h in 2.7 seconds.
The production-spec 2015 Revzani Beast will be unveiled in May.