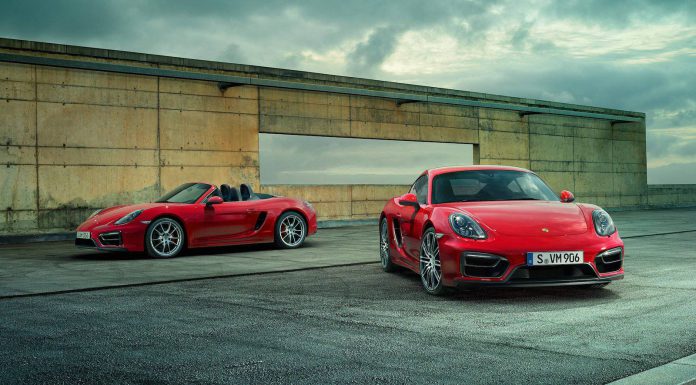 Porsche has introduced its Grand Turismo (GTS) range in India with the launch of the Boxter GTS and the Cayman GTS. The performance variants of the Boxter roadster and Cayman coupe are priced at INR 11.29 million and INR 11.15 million respectively (ex-showroom Mumbai).
The cars were first exhibited at the 2014 Beijing Auto Show and will appeal to the handful of driving enthusiasts in India ready to splurge big for a rewarding ownership.
Both the cars are powered by a 3.4 liter-flat-six engine – the same engine present in the regular variants. However, the engine has been more finely tuned so that it produces greater power and torque. The Boxter GTS produces 300 hp, while the Cayman GTS can notch up to 340 hp of power. This is an increment of 15 hp for both the cars from their regular variants. The torque in the two has been increased by 10 Nm. The power is transmitted to the rear wheels of the cars by a 7-speed automatic Porsche Doppelkupplung (PDK) transmission.
The Boxter GTS can cross the speed barrier of 100 km/h in just 4.7 seconds and records a top speed of 279 km/h. The Cayman GTS, meanwhile, sprints from 0 to 100 km/h in 4.6 seconds and the car can notch a maximum speed of 283 km/h. Porsche India claims that the two cars will deliver a fuel efficiency of 8.2 l/100 km as per the European Driving Cycle.
Both, the Cayman GTS and the Boxter GTS come with Porshe Torque Vectoring (PTV) feature, Porsche Sport Chrono Package and modified rear and front ends. The blacked out bi-xenon lights give a touch of elegance while the black gloss lettering on the exterior of the two cars is described as an "unmistakable feature".
Anil Reddi, Director, Porsche India, said, "With the introduction of the GTS versions of the Boxster and Cayman, we are catering to Porsche purists and true sports car enthusiasts in the country. These two new Porsche sports cars excel visually and dynamically, and assure a rewarding ownership and driving experience."
Porsche India is a division of Volkswagon Group India, which has been the official importer for all of Porsche's cars in India since April 2012.