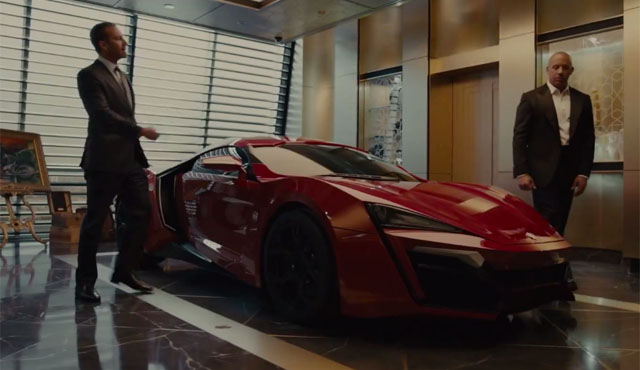 In just a few short days, Furious 7 will hit cinemas around the world. Before that happens however, a new featurette from the film has been released with this short clip focusing on the most expensive car ever used in the franchise; a W Motors Lykan Hypersport.
Powering the Lykan Hypersport is a RUF-sourced flat-six powerplant delivering around 750 hp and 1000 Nm of torque. As a result, it will reportedly hit 100 km/h in 2.8 seconds and a top speed of 385 km/h. While those figures are impressive, it is the Hypersport's price tag that it is the real headline; it starts at $3.4 million. That means it is more expensive than the LaFerrari, McLaren P1 and Porsche 918 Spyder combined.
[youtube]https://www.youtube.com/watch?v=idn_PGgl3HQ[/youtube]
Throughout Furious 7, the red Hypersport will be used heavily in scenes which were filmed in the United Arab Emirates with one eye-popping scene showing it jumping between skyscrapers with Vin Diesel behind the wheel.
In Fast 6, the Fast and Furious crew led by Dominic Toretto (played by Vin Diesel) took down Owen Shaw and in Furious 7, Owen's big brother Ian is seeking revenge on the Fast crew. Of course, Paul Walker passed away during filming for Furious 7 and has been replaced by his brother's alongside CGI. Further actors in Furious 7 include the likes of Vin Diesel, Michelle Rodriquez, Dwayne Johnson, Ludacris, Tyrese Gibson and Jordana Brewster.