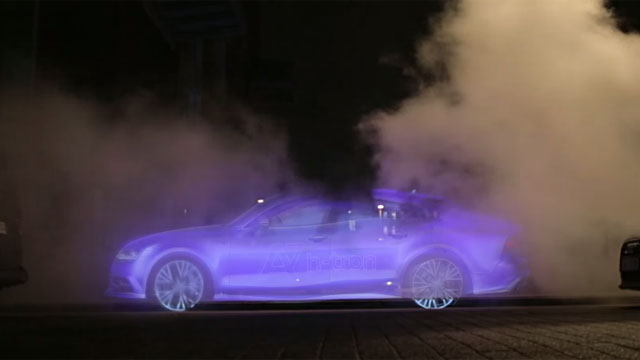 Following its unveil late last year, an interesting German advertisement for the Audi A7 Sportback H-Tron Quattro Concept has just been released.
The video shows a projection of the A7 H-Tron Quattro being displayed across a screen of steam and was created alongside German advertising agency Thjnk.
[youtube]https://www.youtube.com/watch?v=pFN9OYpb3Iw[/youtube]
As a concept car, the Audi A7 Sportback H-Tron Quattro Concept is far from finished, however, it is capable of covering over 500 kilometres (310.7 miles) on one tank of fuel. What's more, its exhaust emissions are limited to nothing more than a few drops of water. The H-Tron drivetrain uses a hydrogen fuel cell together with an electronic motor at the rear to achieve this guilt-free motoring experience. Due to the hydrogen powertrain of the car, the following advertisement makes complete sense.
With 230 hp and 540 Nm of torque at its disposal, the A7 Sportback H-Tron Quattro Concept isn't exactly slow either. It sprints from 0 to 100 km/h (62.1 mph) in 7.9 seconds and on to a top speed of 180 km/h (111.8 mph).
The car features two modes, it can either run in electric or in hydrogen mode. With the hydrogen fuel cell, which sits under the front bonnet, just one kilogram (2.2 lb) of hydrogen is required to cover 100 kilometres (62.1 miles). It is capable of travelling 50 kilometres (31.1 miles) on battery power alone, which is recharged by recuperation or alternatively from a power socket. As an interesting piece of trivia, the exhaust system only has to handle water vapour therefore it is made of weight-saving plastic.