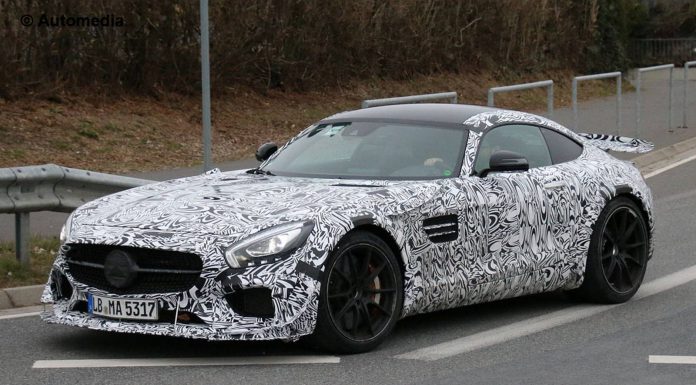 During the Geneva Motor Show 2015 earlier this month, it was revealed that a road-going variant of the Mercedes-AMG GT3 racer would be revealed. Now the very first spy shots of this race-derived AMG GT have emerged as a prototype recently underwent testing at the Nurburgring Nordschleife in Germany.
Considering that Mercedes-AMG's Tobias Moers has already confirmed that a Black Series variant of the Mercedes-AMG GT won't launch in the future, it seems apparent that the car pictured will be a step above the GT S but one below the AMG GT Black Series when it is eventually launched.
Compared to existing AMG GT variants, this test mule is easily distinguishable. For starters, the front fascia has been revised to now incorporate an aggressive splitter and a set of downforce-generation canards. Additionally, new aerodynamic fins can be found on the front wheel arches while at the rear, a large fixed wing has also been installed.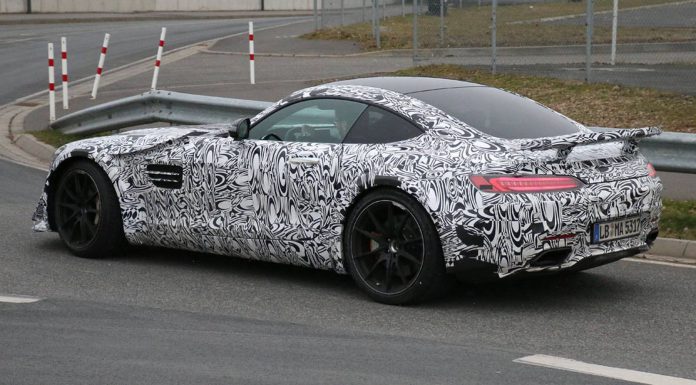 Unlike the race-spec Mercedes-AMG GT3, the road-car won't make use of the German marque's outgoing 6.2-litre naturally-aspirated V8 engine. Instead, it will utilise the same 4.0-litre twin-turbo V8 currently used by the AMG GT and GT S albeit tuned to deliver around 550 hp. When previously speaking with Road and Track, AMG powertrain boss Christian Enderle confirmed that new turbochargers will be installed to reach the 550 hp mark. This is because the current turbos from the GT S are already operating at their limit to deliver 503 hp.
Other details about the car remain unclear but it is certainly a possibility that production will be limited. Alternatively, the German marque could offer the GT3-inspired version alongside the GT and GT S as a fully-fledged production model for buyers looking for more power and speed.