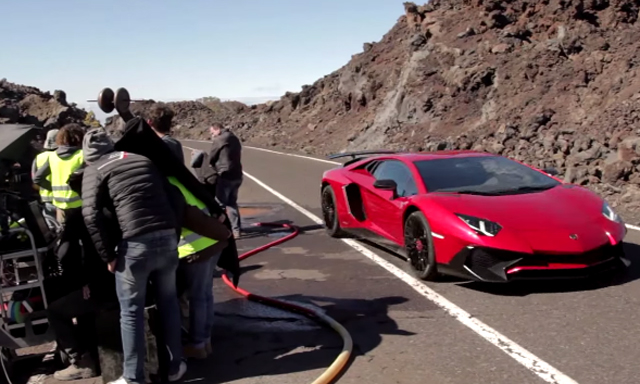 Ever wondered how an automaker like Lamborghini films its promotional videos? Well to give us an idea, the Italian firm has released the following clip looking at the creation of the brand new Lamborghini Aventador LP750-4 SV's promo.
[youtube]https://www.youtube.com/watch?v=RjKar2hnjrs[/youtube]
We now know that the very first spy shots of the Aventador SV completely undisguised emerged from when the promo video was being filmed in some dry and desolate conditions and surrounds. For anyone with an interest in photography, videography and of course the Aventador SV itself, this is a video definitely worth watching!
In case you didn't know, the Lamborghini Aventador LP750-4 SV's 6.5-litre V12 engine gets a modest power boost of 50 hp together with a weight reduction of 50 kg. The top speed is now 350 km/h and the 0-100 km/h time drops, as mentioned, from 2.9 seconds to 2.8 seconds. Torque remains at 507 lb-ft at 5,500 rpm and peak rpm rises to 8,500 rpm.