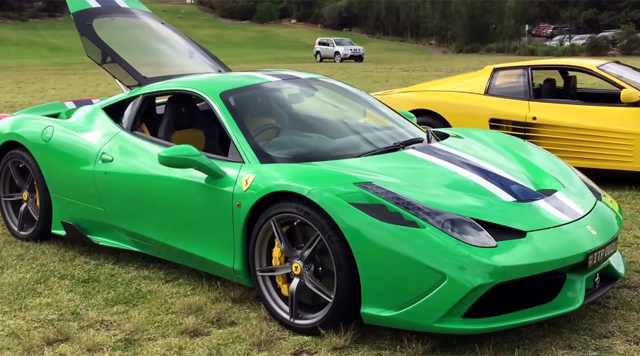 Last year, Jay Kay stunned many when he unveiled his Kermit Green Ferrari LaFerrari. Now a Ferrari 458 Speciale believed to be finished in the same shade of green was recently delivered to its new home in Australia and it is certainly eye-catching!
Beyond the green exterior finish, this Ferrari 458 Speciale features the optional central racing stripe incorporating white and dark blue. Elsewhere, the optional yellow Ferrari shields have been added to the front quarter panels while yellow brake calipers and centre caps are also featured. The yellow elements are then carried through to the interior with yellow covering parts of the seats. Yellow stitching is also found throughout.
[youtube]https://www.youtube.com/watch?v=9BiE2lO8zV8[/youtube]
In case you needed reminding, the Ferrari 458 Speciale features a modified variant of the regular 458 Italia's 4.5-litre V8 engine. In Speciale guise, it delivers a total of 597 hp and 398 lb-ft of torque thus making it the most powerful naturally aspirated V8 engine ever produced by Ferrari. What's more, Ferrari claims that thanks to it delivering 133hp per litre, it has the highest ever per litre output of a road-going naturally aspirated engine. Maximum power is achieved at 9000 rpm while max torque is reached at 6000 rpm.
The Ferrari 458 Speciale tips the scales at just 1290 kg and Ferrari consequently claims a sprint time to 100 km/h in just 3 seconds and the car can then hit 200 km/h in just 9.1 seconds. What's more, Ferrari claims that the Ferrari 458 Speciale can sprint around the Fiorano test track in just 1:23.5 seconds thus making it 1.5 seconds faster than the standard car and just .5 seconds slower than the Ferrari F12 Berlinetta.