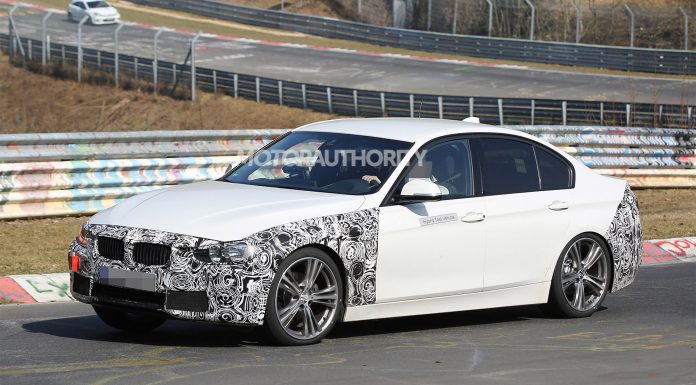 New spy shots of the upcoming BMW 3-Series Plug-In Hybrid have surfaced as a white prototype underwent testing at the famous Nurburgring Nordschleife in Germany for the latest round of testing.
While the BMW 3-Series Plug-In Hybrid hasn't been revealed, the German marque has already confirmed a number of technical details about it. For starters, it utilises a twin-turbocharged four-cylinder petrol engine joined with an electric motor and mated to an eight speed Steptronic transmission. The internal combustion and electric motor make for a combined 242 hp and 295 lb-ft of torque. The electric motor alone is enough to propel the 3-Series Plug-In Hybrid prototype to a top speed of 120 km/h.
Of course, a powertrain like this is all about efficiency rather than performance. As a result, it sips a mere 2.0-litres of fuel per 100 km (or 117 mpg in the U.S.) and emits 50 g/km of CO2 emissions. Additionally, the BMW 3-Series Plug-In Hybrid can drive on purely electric mode for 35 kilometres.
From a visual standpoint, the new BMW 3-Series Plug-In Hybrid will be based around the upcoming facelifted 3-Series. Consequently, it will adopt a revised front end with tweaked headlights as well as a different rear fascia and modified taillights. Distinguishing the Plug-In Hybrid from other 3-Series models will be the power socket on the front quarter panel.
[Via Motor Authority]