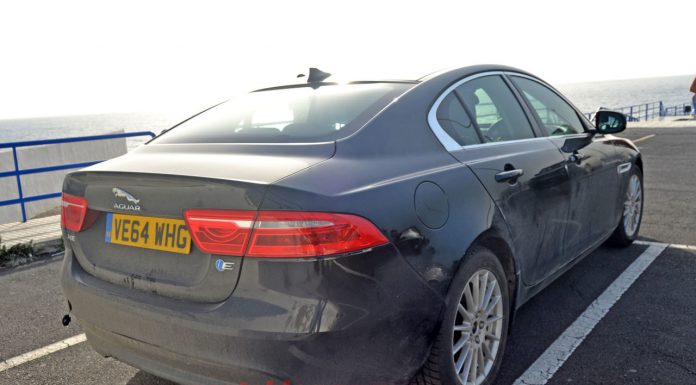 A rather curious Jaguar XE prototype has just been snapped in the midst of testing and according to some reports, it could be a test mule for either an all-electric or plug-in hybrid variant of the British sedan.
While opinion about what powertrain this Jaguar XE prototype remains divided, many sources point towards it being a plug-in hybrid thanks to the presence of a new 'E' badge. It would not be at all surprising if the British marque is indeed developing a hybrid variant of the XE considering Mercedes-Benz has already launched its C-Class plug-in and BMW and Audi are developing hybrid derivatives of the 3-Series and A4 respectively.
On the other hand, some are suggesting that the 'E' badge refers to the economical diesel engine fitted to this Jaguar XE prototype. There are suggestions that such an engine is the 2.0-litre diesel from Jaguar Land Rover's new Ingenium range of engines delivering 163 hp and mated to a manual transmission.
Whatever the case may be, it is obvious that a key focus of Jaguar for the XE will be offering fuel efficient models to compete with the German trio of Mercedes-Benz, BMW and Audi.
As a reminder, the top of the range Jaguar XE S features a 3.0-litre supercharged V6 engine delivering 340 hp. This engine is the same as the one powering the Jaguar F-Type V6. A torque figure of 450 Nm allows a 0-96 km/h (60 mph) time of 4.9 seconds and an electronically limited top speed of 250 km/h. Both figures make the XE S an impressive proposition! Mated to the engine is Jaguar Land Rover's eight-speed ZF transmission. Further down the road, it is speculated that a Jaguar XE SVR version will be offered to compete against the BMW M3 and Mercedes-AMG C63.
[Via Autoblog]