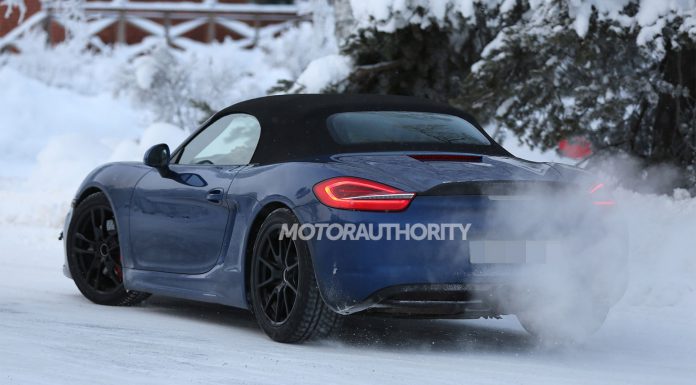 On the back of confirmation that a brand new Porsche Boxster Spyder will be revealed this year for a 2016 market launch, it has emerged that the stripped-down Boxster will receive the same 911 Carrera S engine as the recently introduced Porsche Cayman GT4.
Such claims refute previous indications that the new Boxster Spyder wouldn't receive any more power than the Boxster GTS and instead only feature less weight. Car Magazine goes on to state that while the new Porsche Boxster Spyder will utilise the 375 hp engine of the Cayman GT4, it won't feature all of the hard-tops chassis modifications.
Whatever the case may be and no matter how much power the Boxster Spyder delivers, there's a good chance it will be exclusively available with a six-speed manual transmission just like the Cayman GT4. In order to ensure it weighs less than the existing Boxster, the interior is pinned to be stripped out with new lightweight wheels also being adopted.
If the new Porsche Boxster Spyder does indeed launch this year, September's IAA Frankfurt Motor Show 2015 seems the most likely for its release.
[Via Car Magazine]