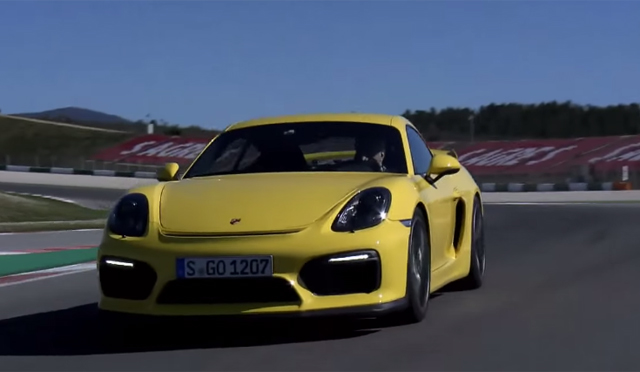 The Porsche Cayman GT4 signifies the German marque's first sports car which can actually out-sprint and out-handle select Porsche 911 models. As a result, the hardcore Cayman GT4 is nothing to be sneezed about and has already proven itself to be a worthy product from Porsche's GT division.
[youtube]https://www.youtube.com/watch?v=EyykDmuCxZo[/youtube]
With that in mind, Porsche has just released a new promotional video for the Cayman GT4 being driven by legendary rally driver and Porsche test driver Walter Rohrl both on the racetrack and on the road. While the clip doesn't feature any driving footage of the GT4 being pushed to its limit, it doesn't provide a nice overview of the car as well as the philosophy which went into its development.
As a reminder, the mid-mounted 3.8-litre flat-six now produces 385 horsepower. 0-100 km/h (60 mph) is possible in 4.4-seconds and a 295 km/h (183 mph) top speed is now achievable. As with all Porsche products, the Cayman GT4 is also at home on the Nurburgring having recorded a blistering 7 minutes and 40 second time.
Beyond the uprated engine, the Cayman GT4 also receives a large fixed rear wing together with a reworked front facia and a new rear diffuser. With the new look and the increased performance, the Porsche Cayman GT4 becomes a very exciting proposition indeed! On paper it looks as though it does for the Cayman what the GT3 does for the Porsche 911.