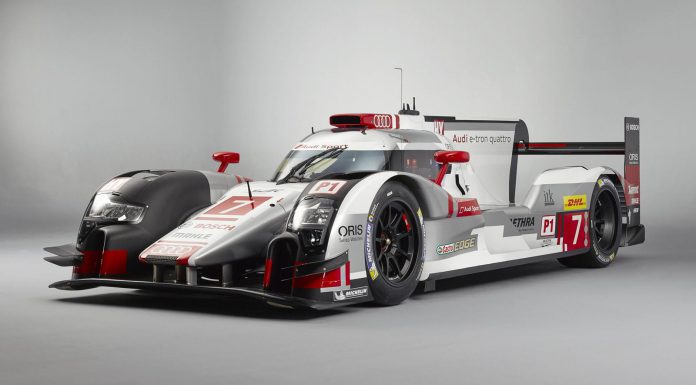 Prior to the 2015 FIA World Endurance Championship kicking off, the 2015 Audi R18 e-tron quattro has just been unveiled. A number of mechanical and aerodynamic modifications have been implemented for the latest R18 e-tron quattro as it aims to be even more potent than last year's entrant which walked away with victory at the 24 Hours of Le Mans.
At the front, the 2015 Audi R8 e-tron quattro includes enlarged air intakes as well as redesigned headlights. Additionally, more prominent canards have been installed to the revised front fascia. The aforementioned headlights combine the German marque's Matrix LED technology as well as Audi's Laserlight technology which are now available for select road-going Audi models.
Elsewhere, the 2015 Audi R8 e-tron quattro adopts new sidepods with different radiators to provide additional cooling for the powertrain which also reducing aerodynamic drag. The engine cover has also been modified and also aids in the better aerodynamics. Beneath the skin of the 2015 R18 is the same carbon fibre monocoque as last year's entrant. As with last year's model, the new car will be created in two different body styles for the different tracks throughout the World Endurance Championship calendar.
Beyond these changes, the updated R18 e-tron quattro includes a more powerful electric motor now delivering 272 hp. The energy storage system found in the flywheel can now also store 700 kilojoules which represents a 17 per cent increase over last year's model. Additionally, the racer's 4.0-litre turbocharged-diesel V6 engine delivering 558 hp now consumes 2.5 per cent less diesel.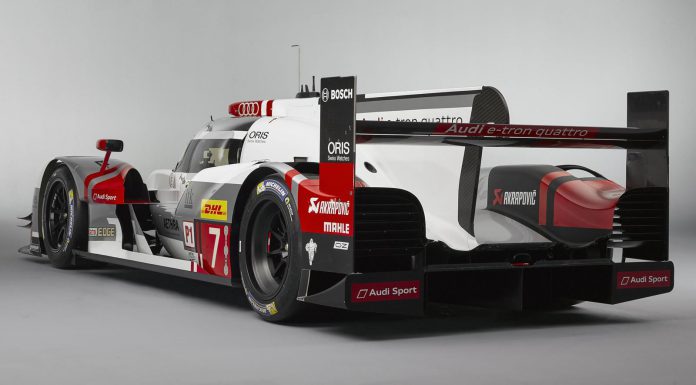 Discussing the car, Audi Sport's new head of engineering Jorg Zander said "The possibilities of the revolutionary regulations that have been in effect for LMP sports cars since 2014 are far from having been fully used. The rules harbour so much potential that there is room for future developments. We expect that the technological progress resulting from the fierce competitive pressure exerted by four automobile manufacturers that are now involved will significantly improve lap times this season – while concurrently reducing fuel consumption."