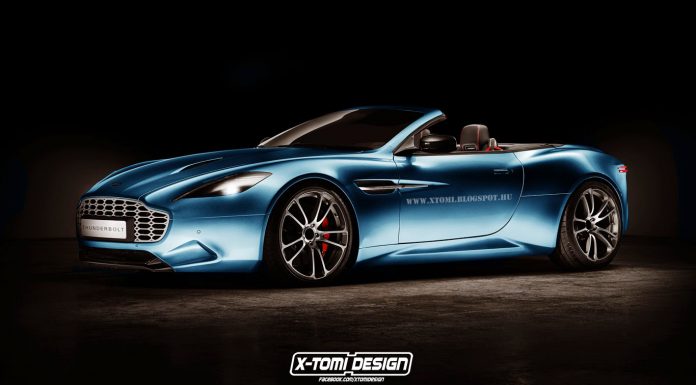 On the back of Henrik Fisker unveiling his special Aston Martin Vanquish dubbed the Thunderbolt at the Amelia Island Concours d'Elegance, noted automotive renderer X-Tomi Design has chopped off the sports car's roof to create a Vanquish Thunderbolt Volante.
While it is unclear if such a Thunderbolt variant will ever see the light of day, reports suggest that the Thunderbolt coupe will actually reach the production line in limited numbers and be created in collaboration with Galpin Auto Sports. The brand new bodywork of the recently unveiled display model is believed to have been made from carbon fibre and it adds an entirely different look to the V12-powered Aston Martin Vanquish.
At the front, all new components are found including a custom grille which features an eye-brow raising design and is slightly larger than normal. Additionally, new air intakes have been installed alongside a set of custom headlights. A new bonnet has also been installed and it includes prominent air extractors. From the side, a new set of wheels set the Thunderbolt apart from typical Vanquish models as well as new side skirts, a different B-pillar design and a reshaped rear decklid and heavily tapered rear window.
Completing the visual modifications of the Thunderbolt are brand new LED taillights, a prominent bootlid lip spoiler as well as redesigned dual exhaust pipes and a new diffuser. All told, the Thunderbolt is actually 15 mm lower than the Vanquish and the aforementioned new wheels actually measure 21-inches at all four corners.
[Via X-Tomi Design]