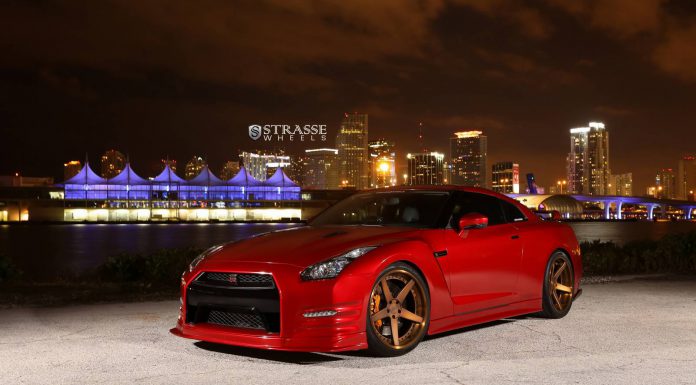 Amazing Autoworks in Miami has lifted the lid on its fully customized Nissan GT-R! This GT-R features a set of Strasse S5 Deep Concave SC wheels from the new line for 2015.
The wheels on this GT-R are big and fat, built 21×10.5 front and 21×12.5 rear fitments which is extremely wide and assists the GT-R in performance.
These S5 Deep Concave SC wheels are finished in matte brushed bronze on the centres contrasting with gloss brushed bronze on the lips, complemented by gloss black fasteners and gloss black inners which take the look of this combination over the top!
The modifications don't stop there, for this 2014 GT-R is lowered on Swift Spec R springs and is wrapped in Satin True Blood while displaying a host of carbon fibre features all around the vehicle. The stunning wheels combined with the wrap and aesthetic bits create a fully customized eye-catching Iron Man ready GT-R!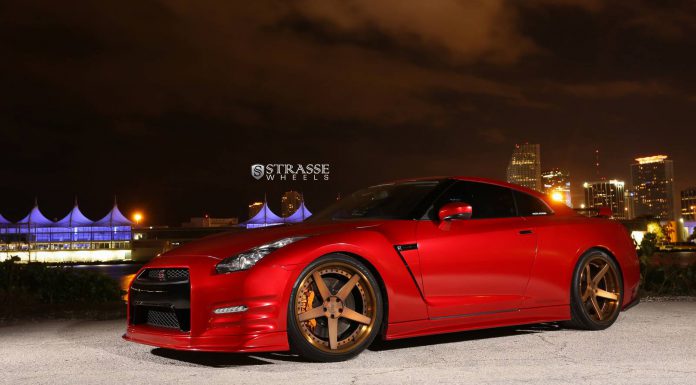 Strasse's SC Series line – available in diameters 18 to 22 inches and widths 8 to 14.5+, for all vehicles / offsets / 5 & 6 Lug pitch circle diameters / bolt circles and centerlock – features the new extended spoke over the Step Lip configuration.
This gives the wheels an appealing enhancement while also improving the functionality with overall weight reduction over existing concave configurations.