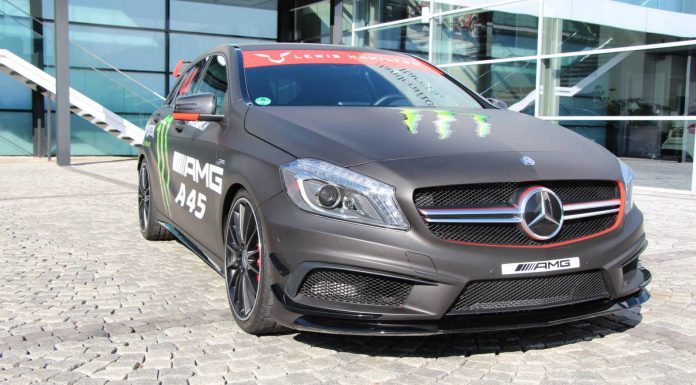 With cars like a Mercedes-Benz SLS AMG Black Series and the one-off Pagani Zonda 760 LH in his garage, Mercedes-AMG Formula One driver and current world champion Lewis Hamilton is absolutely no novice with high-performance street cars. With that in mind, when the German marque recently decided to hand over the keys of a brand new Mercedes-Benz A45 AMG to Hamilton, they decided to make it stand out from the pack.
Consequently, Hamilton's unique A45 AMG features a matte black paint finish as well as a number of racing-inspired decals from Monster Energy and AMG itself. Additionally, the car features Hamilton's racing number, 44, on the rear passenger windows with the revised aero components of the Edition 1 model also found.
What that means is that Hamilton's A45 AMG includes more pronounced carbon fibre canards at the front as well as a prominent rear wing complete with bright orange endplates. Inside, racing harnesses have been installed for the bucket seats.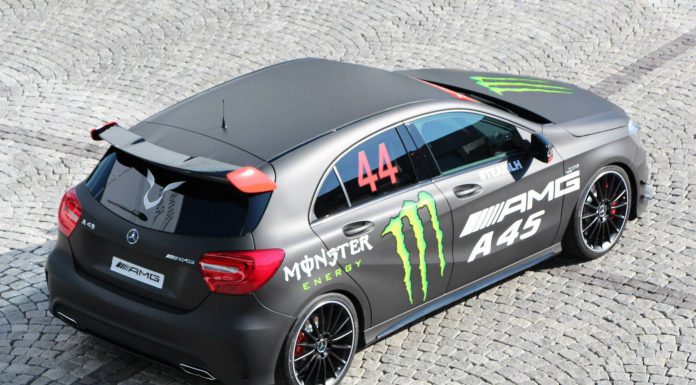 The current Mercedes-Benz A45 AMG delivers 355 hp from its 2.0-litre turbocharged four-cylinder engine but later this year, the facelifted variant will be revealed with even more power. Preliminary reports suggest that it could deliver 375 hp putting it above the 362 hp delivered by the 2.5-litre five-cylinder of the updated Audi RS3.