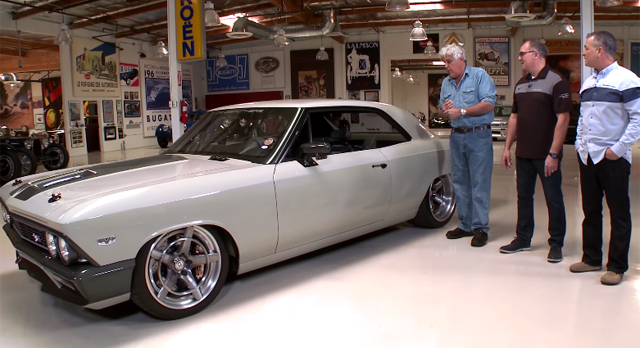 Unveiled at SEMA last year, the Ringbrothers Chevrolet Chevelle is a modern-day interpretation of the classic American muscle car with a current engine putting out a truly phenomenal 980 hp. While we unsurprisingly haven't seen the automotive press test the car, it recently headed to Jay Leno's Garage where the comedian jumped behind the wheel.
[youtube]https://www.youtube.com/watch?v=GTQoiYY9_yQ&t=1250[/youtube]
Officially dubbed the Recoil, the car features an LS7 V8 engine mated to a whipple supercharger resulting in the aforementioned 980 hp. Funnelling all of that power to the ground is a Tremec T56 transmission driving the rear wheels.
One of the most impressive things about the latest creation from Ringbrothers is that unlike many cars displayed at SEMA every year, their Chevelle Recoil actually runs and is much more than a showpiece. As Leno finds out when driving it on the street, it is ferociously fast with wheelspin the only factor somewhat limiting its acceleration!