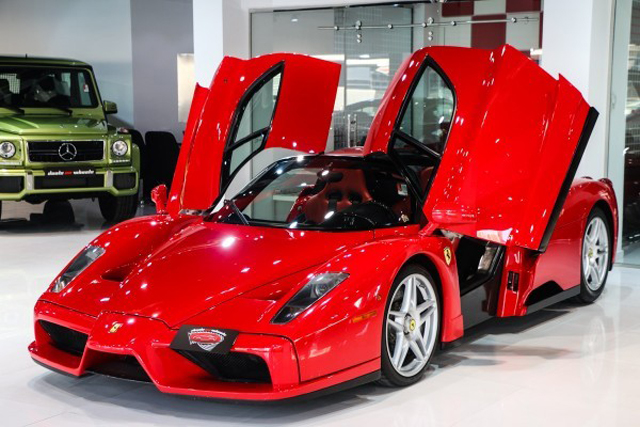 With just 400 examples created, the Ferrari Enzo will always be held in the highest regard and remembered as a truly iconic supercar. After all, a Ferrari halo car only comes around once every decade so it is little surprise why Enzos routinely sell for well in excess of one million dollars. Now a fine example is up for sale courtesy of Deals on Wheels in Dubai for any discerned enthusiasts and buyers out there.
The asking price of this particular example sits at 6.5 million AED which is the equivalent of just over $1.7 million in the United States. This price buys you an Enzo with 12900 km on the clock as well as a 2004 model year example.
As with the vast majority of Enzo's created, this one is finished in Rosso Corsa and is riding on a set of silver wheels with yellow centre caps. In the cabin, it incorporates red leather across the seats, transmission tunnel, the underside of the dashboard as well as red leather door handles. Elsewhere the cabin is filled with naked carbon fibre as if from a petrol head's wet dream.
As a reminder, the Ferrari Enzo makes use of an unadulterated 6.0-litre naturally-aspirated V12 engine delivering 650 hp and helping it reach 100 km/h in a mere 3.4 seconds!