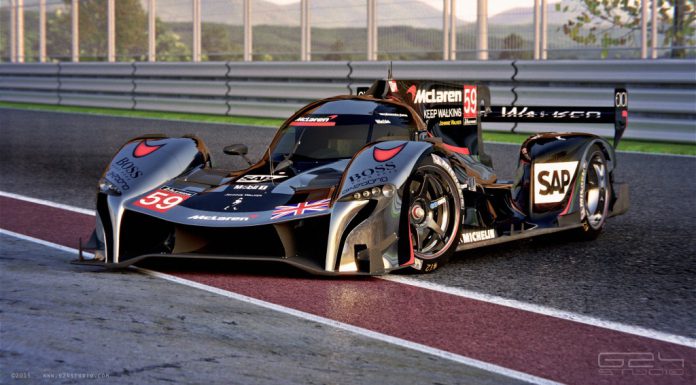 This year, we know that Nissan will compete in the LMP1 class of the World Endurance Championship with the new Nissan GT-R LM Nismo. As a result, there will be four manufacturers (Toyota, Porsche, Nissan and Audi) vying for the title. What if McLaren decided to create an LMP1 entrant based around the almighty P1 hybrid hypercar however? Well G24 Studio has imagined such a car.
Generally speaking, the car presented is clearly reminiscent of the McLaren P1 with similar headlights and taillights. Beyond those elements however, this McLaren LMP1 is a dedicated racing prototype bearing no similarities to any road cars from the British manufacturer.
With that in mind, it features a typical LMP1 shape with a lowslung bonnet as well as eye-popping wheel arches. Additionally, the car includes a small cockpit with a heavily curved windscreen while in typical LMP1 fashion, a large shark fin has been installed across the decklid alongside the installation of a prominent rear wing.
What do you think of the finished product? Leave your thoughts below!
[Via G24 Studio]