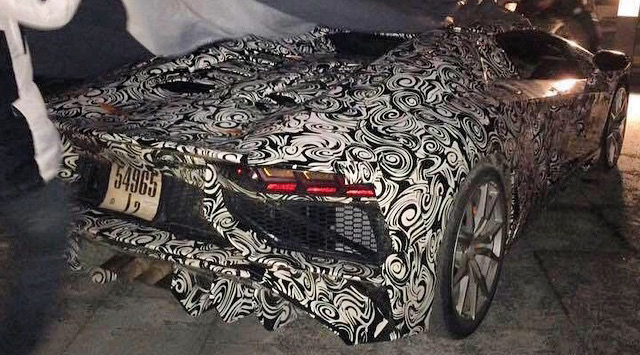 At the Geneva Motor Show 2015, we know that the Lamborghini Aventador SV will be revealed. Before that happens however, a spy shot has emerged of what could be a Lamborghini Aventador SV Roadster in the midst of testing.
It remains to be seen, but it is obvious from this image that the Aventador in question is a Roadster with the same rear decklid design as the existing Aventador Roadster. Most intriguing however is the fact that it features the same aggressive rear diffuser as the Lamborghini Aventador SV coupe will feature when it debuts at Geneva. Additionally, the same eye-catching rear air vent surrounds of the coupe are featured on this prototype.
If Lamborghini is indeed creating an Aventador SV Roadster, it is somewhat surprising considering a Roadster version of the Lamborghini Murcielago LP670-4 SV was never released. Nevertheless, experience has taught us that when Lamborghini reveals a special variant for a coupe, the same variant will often arrive in convertible guise not long after. After all, the Lamborghini Aventador LP720-4 50th Anniversario Roadster debuted just a few short months after the 50th Anniversario coupe and adopted all the same visual and aerodynamic modifications.
Previous spy shots of the Lamborghini Aventador SV coupe have revealed that it will feature all the bold and in-your-face styling and aerodynamic elements characteristic of a Lamborghini to wear the SV name. With that in mind, the front bumper will be restyled to incorporate differently shaped air intakes as well as a body colour matched painted element. The sides of the Aventador SV will also be discernably different than the standard Aventador with a towering rear wing also featuring.
While the following Lamborghini Aventador Roadster prototype doesn't feature a large rear wing like coupe test mules have, there's a possibility the car will be offered both with and without the wing as was the Murcielago SV.
Alongside the visual modifications, power from the 6.5-litre V12 is expected to be bumped up to the 750 hp mark while other mechanical changes are also likely.
[Via Teamspeed]