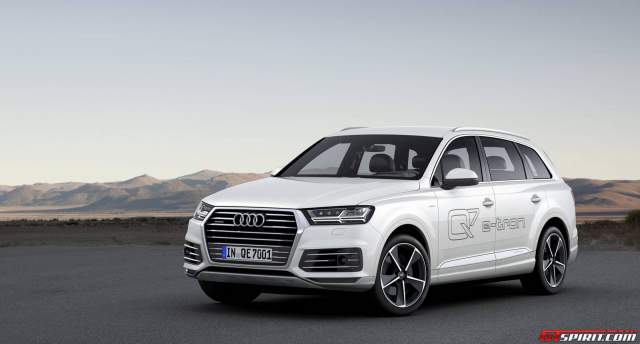 After many months of rumours and speculation, the 2015 Audi Q7 e-tron has just been unveiled prior to the Geneva Motor Show 2015. The new car is the first plug-in hybrid SUV produced by the German firm and promises to provide the best value in its respective market segment.
Beneath the skin, the 2015 Audi Q7 e-tron features a 3.0-litre six-cylinder diesel engine delivering a total of 373 hp and 700 Nm of torque when combined with the electric motor. As a result of this, the car will accelerate to 100 km/h from a standstill in a respectable 6 seconds and onto a top speed of 225 km/h. Beyond these impressive performance specs, the Audi Q7 e-tron averages just 1.7 litres of diesel per 100 km as well as fewer than 50 grams of CO2 emissions every kilometre. The pure electric range sits at 56 km.
The lithium-ion battery pack used by the 2015 Audi Q7 e-tron features 168 individual battery cells and is liquid cooled. It has a 17.3 kWh capacity and that helps achieve the aforementioned 56 km electric range. The total range of the Q7 e-tron is 1410 km.
Mated to this powertrain is an eight-speed tiptronic transmission which has been designed specifically to provide efficiency and low weight. It also combines a torque vectoring system and when combined with the active engine mounts, helps to ensure that the Q7 e-tron is a capable handler despite its size. While no weight figures have been revealed, it seems inevitable that it will tip the scales at more than other Audi Q7 variants.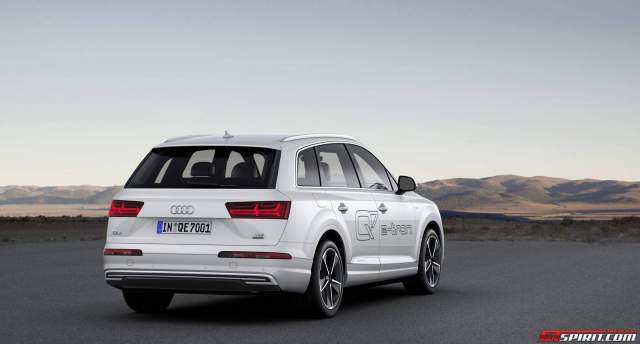 There are four different driving modes available for the Audi Q7 e-tron with the two key being EV mode and hybrid mode. In EV mode, the Audi Q7 e-tron is powered purely by the electric motor and battery pack. If the driver needs an extra surge of power, the diesel engine will fire up when the accelerator pedal is depressed to a pre-defined level. In hybrid mode by comparison, the diesel engine works in conjunction with the electric motor to provide maximum performance both on and off-road.

One particularly interesting piece of technology on the new Audi Q7 is the thermal management system complete with an integrated heat pump. What this means is that in colder months, the car is able to recycle the heat generated from the electric components and funnel it into the interior in place of traditional heating.