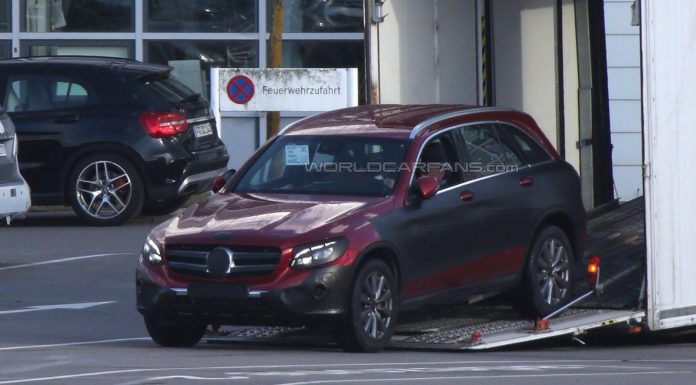 New Mercedes-Benz GLC spy shots have emerged of the car undergoing final testing before its reveal later this year. This particular prototype is wearing significantly less camouflage than previously spied test mules and therefore gives us our best look at its new design thus far.
Generally speaking, the design of the Mercedes-Benz GLC is quite similar to the compact GLA crossover. The front grille consists of two prominent horizontal slats while the headlights are clearly quite different to the GLK which of course the GLC will replace and supersede. Overall, the Mercedes-Benz GLC will be slightly larger than the GLK to further distinguish it from the Mercedes-Benz GLA. Two of the clear giveaways for the stretched wheelbase are the longer bonnet as well as the axle being pushed forward.
As a result of the longer wheelbase, the new Mercedes-Benz GLC will feature more interior space than the current GLK and should be similar in size to the BMW X3 and Audi Q5. Underpinning the GLC will be a similar mechanical package to the C-Class and the SUV will consequently be made available in right-hand drive for markets like the UK, Australia and Japan.
It remains to be seen if an AMG variant of the Mercedes-Benz GLC will be created but it is expected to be made available with a turbo 1.8-litre petrol four-cylinder and a turbo 2.1 litre four-cylinder diesel. The range-topping variant will come in the form of the AMG tuned version with it tipped to use a twin-turbocharged 4.0-litre V8 engine delivering 476 hp and 479 lb-ft of torque.
[Via World Car Fans]