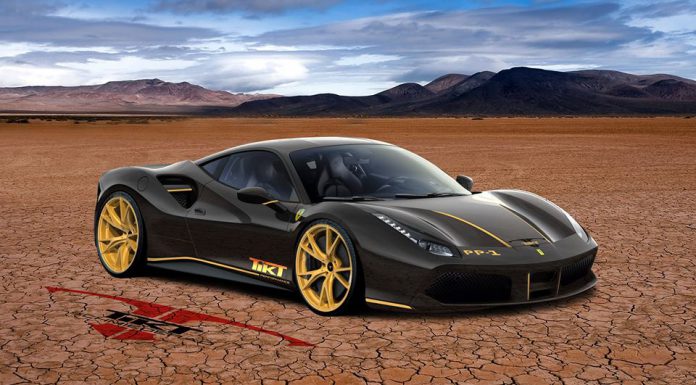 The Ferrari 488 GTB was only officially unveiled yesterday afternoon but render artists have already been tinkering with the press images. Here we have a render from Tikt Performance Parts which features the 458s replacement in black with some pretty awesome gold wheels.
Additionally the new turbocharged V8 has been rendered with some very cool gold highlights. It would be great to see such a spec in the flesh but we suspect that the majority of owners will stick with Rosso, Nero and Giallo cars!
Mated to the twin-turbocharged 3.9-litre V8 is a tweaked variant of the 458 Italia's seven-speed dual-clutch transmission driving the rear wheels. The gear ratios have been modified to improve acceleration throughout the rev range. When it is all said and done, the Ferrari 488 GTB will sprint to 100 km/h in 3 seconds flat, 200 km/h in a mere 8.4 seconds as well as a 334 km/h (208 mph) top speed. Those figures are almost identical to the 642 hp McLaren 650S which hits 100 km/h in the same time, 200 km/h in 8.5 seconds and a 333 km/h (207 mph) top speed.