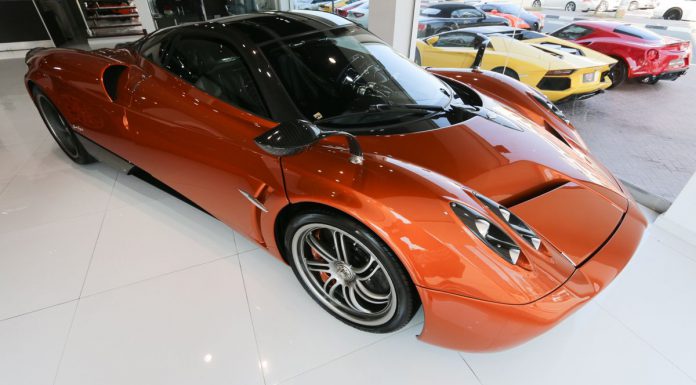 A Dubai exotic car dealership by the name of Deals on Wheels currently has a Bugatti Veyron Super Sport World Record Edition and a unique orange Pagani Huayra for sale.
As for the Bugatti Veyron Super Sport World Record Edition in question, it is a 2013 model and has just 900 km on the odometer. Priced at 10.5 million AED (about $2.85 million in the U.S.), this Veyron Super Sport features all the same key elements of the others.
As such, the exterior combines a selection of glossy carbon fibre elements as well as orange accents across the front bumper, side skirts, rear bumper and of course the wheels. Beneath the skin, it features an 8.0-litre quad-turbocharged W16 delivering 1200 hp and can consequently reach 100 km/h in just 2.5 seconds and a 430 km/h top speed.
As for the Pagani Huayra, it too is a 2013 model and has just 800 km on the clock. It features a selection of burnt orange panels while carbon fibre can be found at the rear bumper and diffuser, the front fascia and a carbon fibre roof and part of the rear decklid. No pricing details have been revealed.
As a reminder, powering the Pagani Huayra is a potent and exclusive to Pagani, 6.0-liter bi-turbo AMG V12 engine delivering an impressive 720 hp and 740 lb-ft of torque. Consequently, the Pagani Huayra can sprint to 100 km/h in around 3.3 seconds before continuing onto a claimed top speed in excess of 370 km/h.