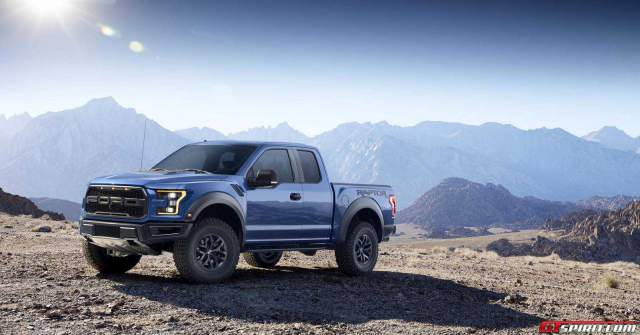 At the Detroit Motor Show 2015 earlier this month, the 2017 Ford F-150 Raptor was revealed. Now the company's vice president of global product development, Raj Nair has announced that the latest-generation F-150 Raptor delivers a total of 450 hp from its 3.5-litre EcoBoost V6 engine.
A torque figure has yet to be released but considering that the new V6 engine delivers more horsepower than the old naturally-aspirated 6.2-litre V8 of the previous-gen car, torque is likely to sit above 420 lb-ft as well.
Beyond the new engine powering the 2017 Ford F-150 Raptor, it weighs about 225 kg less than the current car. Underpinning the new Ford F-150 Raptor is a purpose-built frame which features more high-strength steel than the current Raptor. Additionally, the 2017 F-150 Raptor makes use of military-grade aluminium alloy. Like the outgoing car, the latest-generation Ford F-150 Raptor is six inches wider than the standard F-150 for improved stability off-road.
Mated to the engine of the new Raptor is a 10-speed automatic transmission with power being sent through all four wheels complete with a torque-on-demand transfer case.
A number of different driving modes are available for the 2015 Ford F-150 Raptor. These are Normal mode, Street mode, Weather mode, Mud and Sand mode, Baja mode and Rock mode. The different modes alter things like the powertrain, driveline, traction control, ABS and AdvanceTrac stability control system.