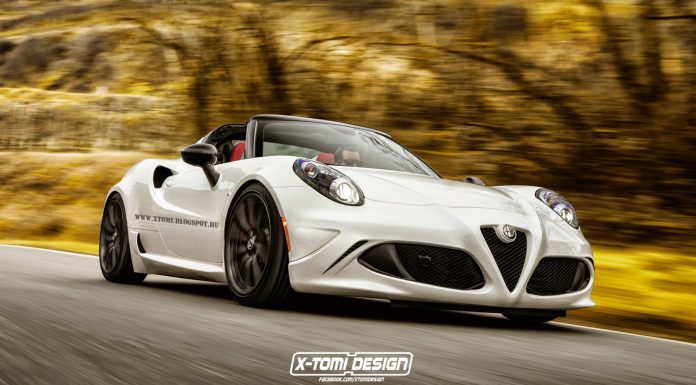 At the Detroit Motor Show 2015, the covers were taken off the eagerly anticipated Alfa Romeo 4C Spider. If current reports are to be believed, the next car on the agenda for Alfa Romeo for the 4C will be the release of a high-performance variant and after that, those upgrades could be transferred across to the 4C Spider. With that in mind, X-Tomi Design has decided to render how a potential Alfa Romeo 4C Spider GTA could look.
The car featured is clearly distinguishable from the 'regular' 4C and 4C Spider. As a result, it features a more aggressive front bumper as well as redesigned air intakes. Additionally, new side skirts have been installed. The tail of the Alfa Romeo 4C Spider GTA here then takes things to an extra level with a ducktail lip spoiler, quad exhaust system and a bold rear diffuser.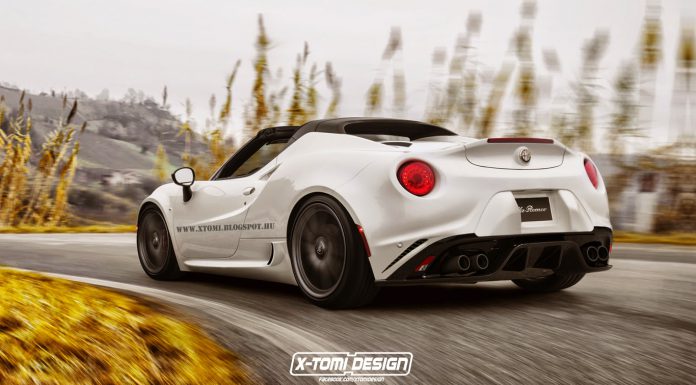 Not too long ago, Alfa Romeo confirmed that the 1.75-litre turbocharged engine can produce more power and that things like the braking systems can also be improved. Previous reports indicate that such a model could reportedly deliver 266 hp which is 29 hp more than the standard car. Others claim that power could rise to the 280 hp mark.
Whatever the final horsepower figure is for the Alfa Romeo 4C GTA, it really will take the fight to the very best the Porsche Boxster and Cayman variants.
As a reminder, the standard Alfa Romeo 4C certainly isn't a slouch. It features a mid-engined layout, a carbon fibre monocoque chassis (not yet seen in a car of this price), and the Italian firm has confirmed that each horsepower will be pushing only 8.8 pounds. One of the best features about the 4C is that in Europe spec, it tips the scales at just 895 kg. This has been achieved through the use of advanced materials, with one of the most notably weight-saving features being the carbon fibre monocoque which weighs just 65 kg.
[Via X-Tomi Design]