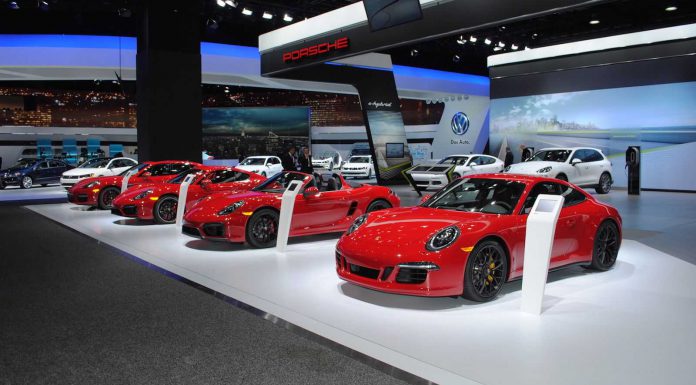 At the ongoing Detroit Motor Show 2015, both the 2015 Porsche 911 Targa 4 GTS and 2015 Porsche Cayenne Turbo S are celebrating their respective world debuts. Alongside these two new models, a selection of other Porsche models are being displayed.
Starting with the 2015 Porsche 911 Targa 4 GTS, it uses a 3.8-litre six-cylinder engine delivering a total of 430 hp. Consequently, the 911 Targa 4 GTS features a power-to-weight ratio of 3.6 kg per horsepower compared to 3.9 kg per horsepower of the S model. As a result, the 2015 Porsche 911 Targa 4 GTS will hit 100 km/h in 4.3 seconds with the PDK transmission and top out at over 300 km/h. Despite the extra performance, the sports car returns the same fuel consumption figures of between 9.2 to 10.0 litres per 100 km.
As for the 2016 Porsche Cayenne Turbo S, it features a tweaked 4.8-litre twin-turbocharged V8 engine delivering 570 hp and 590 lb-ft of torque. Consequently, the new Cayenne Turbo S will sprint to 100 km/h in just 4.1 seconds compared to the 4.5 seconds of the previous model. The car's top speed now sits at 284 km/h.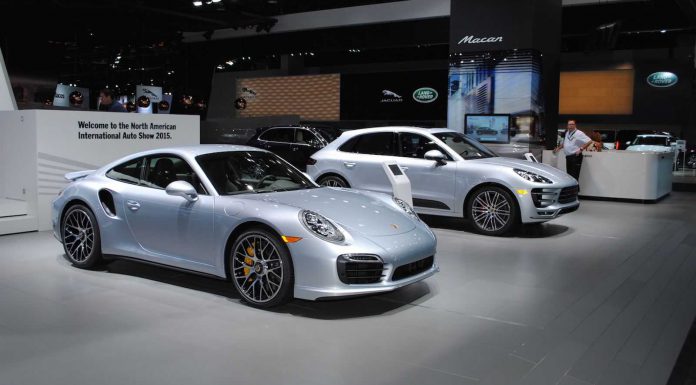 Elsewhere, the new Porsche Cayenne Turbo S comes standard with Porsche Composite Ceramic Brakes which include 420 mm discs at the front and believe it or not, ten piston brake calipers at the front. The rear brakes on the other hand include 370 mm discs and four-piston calipers.
Other key Porsche models displayed at the Detroit Motor Show 2015 are a Porsche Boxster GTS, Cayman GTS, 911 GTS, Panamera and a white Macan.