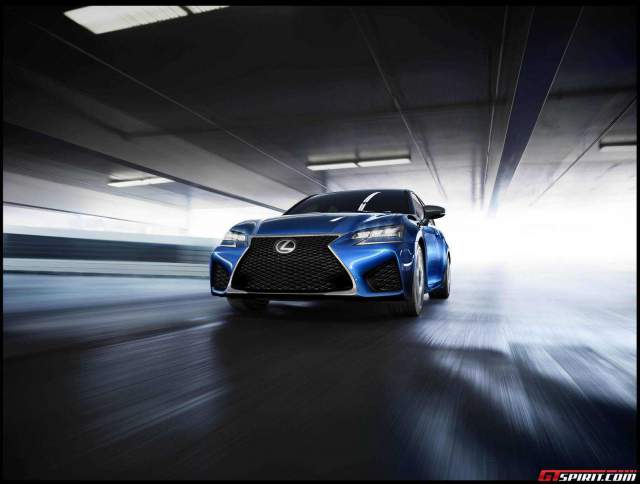 As expected, the covers have been taken off the brand new 2015 Lexus GS F high-performance sedan prior to the Detroit Motor Show 2015 kicking off on January 13. Designed as the Japanese firm's rival to the mighty BMW M5, the GS F certainly has a lot to live up to.
Starting with the engine, it is the same naturally-aspirated 5.0-litre V8 from the RC F but tuned to deliver 467 hp at 7100 rpm and 527 Nm of torque between 4800 and 5600 rpm. While Lexus has yet to reveal performance specifications for the 2015 GS F, it should hit 100 km/h from a standstill in around the four and a half second mark.
Interestingly, the Lexus GS F delivers significantly less power than the 552 hp strong BMW M5 but importantly, the GS F weighs about 130 kg less coming in at a total 1830 kg kerb weight making it easily the lightest car in its market. The aforementioned 5.0-litre V8 is mated to an eight-speed automatic transmission complete with a manual shift function.
Additionally, the firm's torque vectoring differential which debuted in the RC F comes standard in the new 2051 GS F. It has three different modes. These are standard for a smooth combination of agility and firmness, Slalom which improves steering response and handling as well as Track which is focused specifically on race track driving.
All of the aforementioned details relate to the US market 2015 Lexus GS F models with details about other market specific versions expected to be revealed soon.
[showhide]
"Lexus is reinforcing its sporting character with the world premiere of a new GS F high-performance saloon at the North American International Auto Show in Detroit on 13 January.
The GS F will be the next addition to Lexus's 'F' line, joining the recently launched RC F coupe. The new model combines a refined, four-door design with the speed and agility of a premium sports car.
The GS F shares the same platform as the Lexus GS, but benefits from extensive enhancements throughout, including the powertrain. This features a naturally aspirated 5.0-litre V8 engine that produces 467bhp (348kW) at 7,100rpm and peak torque of 527Nm between 4,800 and 5,600rpm*. This sophisticated unit can operate in both the Otto and Atkinson combustion cycles to optimise power or efficiency according to driving conditions. It will be matched to an eight-speed automatic gearbox with a manual shift function.
Lexus's Torque Vectoring Differential, which debuted in the RC F, will be part of the GS F's standard specification, helping define its handling quality. It will operate in three different modes: –
Standard (default), for a balance of agility and firmness
Slalom, emphasising nimble steering response and agility
Track, delivering stability in high-speed circuit driving
The GS F's monocoque chassis will feature structural reinforcements and an exclusive suspension package designed to optimise the car's handling capabilities and ride quality. Drivers can anticipate stable, smooth performance on the open road and rewarding handling when tackling challenging routes or circuit driving.
With a 1,830kg kerb weight*, the GS F is set to be the lightest model in its class.
In sum, the Lexus GS F promises to be a very balanced saloon with a genuine dual personality, equally adept at trimming lap times as it is making the commute back home.
Preliminary specifications (US market)
Overall length (mm) 4,915
Overall width (mm) 1,845
Overall height (mm) 1,440
Wheelbase (mm) 2,850
Track – front (mm) 1,555
Track – rear (mm) 1,560
Kerb weight (kg) 1,830
Wheels Front 19in x 9J
Rear 19in x 10J
Tyres Front 255/35R19
Rear 275/35R19
* Performance data is preliminary, for US market models." [/showhide]