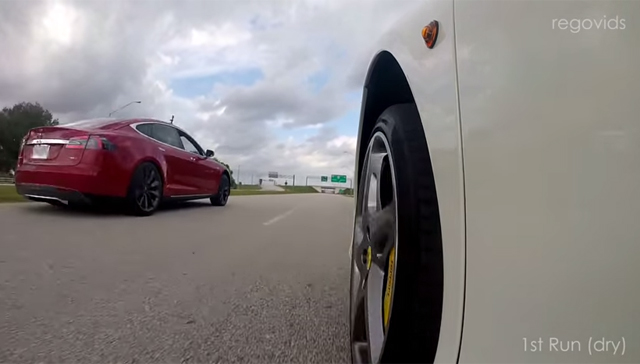 In recent days, a Florida owner of a red Tesla Model S P85D has been showing the very best local supercars just how fast the potent electric sedan is. After taking down a Ferrari 550 and a Lamborghini Aventador, his latest victim was a white Ferrari 458 Italia.
[youtube]https://www.youtube.com/watch?v=9cA1doO_9h8[/youtube]
With a high-revving 4.5-litre V8 engine, the Ferrari 458 Italia can hit 100 km/h in just 3.4 seconds. Thanks to the instant torque of the Model S P85D however as well as its 691 hp, it leaps off the line without hesitation or wheel spin. The 458 is only able to return fire when the speed increases and it begins ripping through the gears.
As the name hints, the D in the name of the latest Model S refers to the dual-motor setup. The Tesla Model S P85D features the same 470 hp electric motor driving the rear wheels as the existing P85 performance model but now also receives an electric motor providing an additional 221 hp to the rear wheels. As a result, the Model S P85D delivers an extreme 691 hp and 687 lb-ft of torque.