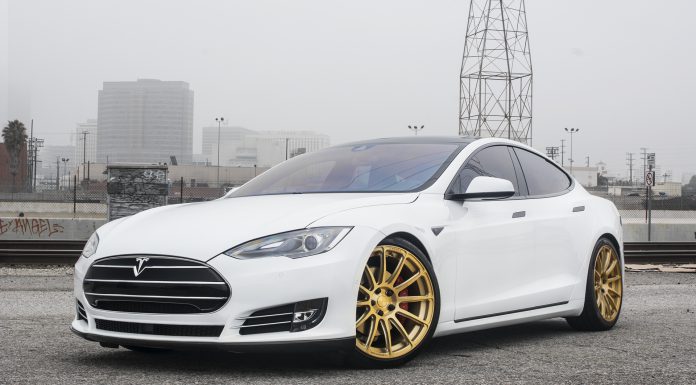 Once again KVK Photography brings us a steller photo set of an incredible looking car. This 2015 Tesla Model S P85D looks absolutely phenomenal with its T-Sportline wheels, done up in TS112+ in ghost gold on the driver side and TS117+ on the passenger side.
This one of a kind build is full of sportiness and colour contrast taking this the P85D to another level of customization. The exterior modification starts with the T Sportline standard, the carbon fiber exterior sports package and Pirelli P Zero Nero 245/35-21″ up front and 265/35-21″ in the rear.
To improve suspension handling and stance, this P85D has the lowering hardware kit installed. All the factory chrome trim on the vehicle has been blacked out except the front end. The rocker panels and rear bumper panels that were once black have been painted factory Pearl White. Each door window, windshield and pano roof have been tinted using 3M Crystalline.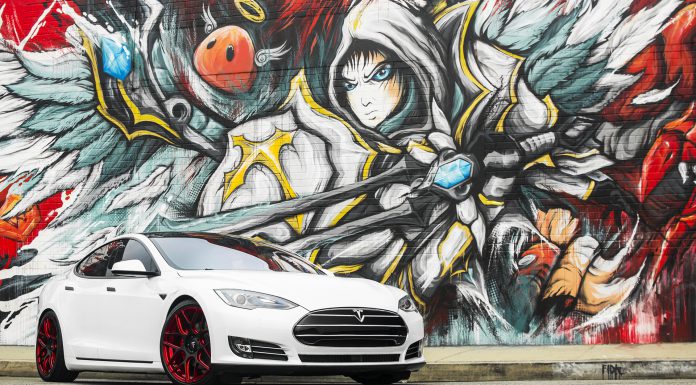 The pinnacle of this build falls upon the interior. T-Sportline reupholstered each seat, the lower dash and each door panel insert to create a sporty luxurious bespoke feel. All the piano black wood was replaced with gloss carbon including the yacht floor and the steering wheel.
The car also features the brand new NCGv2 Nose Cone Grille, a replacement for the factory grille, which gives the car more of a traditional car look.