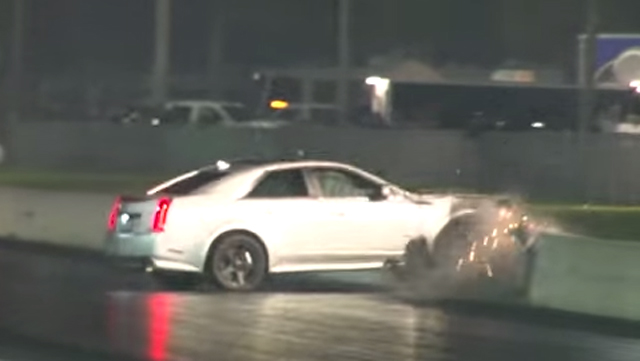 Beneath the skin of the second-generation Cadillac CTS-V is a potent 6.2-litre supercharged V8 engine delivering a Lamborghini Gallardo rivalling 556 hp and 551 lb-ft of torque. Consequently, the American muscle car is one of the most powerful and quickest production sedans ever. As the following owner discovered however, controlling all that power is easier said than done.
[youtube]https://www.youtube.com/watch?v=cw3HP6M9pI0#t=39[/youtube]
While hitting the drag strip at Orlando Speedworld, the driver losses control of the potent CTS-V after the tail steps out half way down the drag strip. While the driver managed to walk away from the crash uninjured, the car itself was thoroughly damaged.
As a matter of fact, the collision with the concrete crash barrier was so forceful that the concrete cracked and broke!
If the car is injured and deemed a write-off, then there's certainly a possibility the owner might want to upgrade to the recently revealed third-generation Cadillac CTS-V. Beneath the skin, the 2016 Cadillac CTS-V uses the same 6.2-litre supercharged V8 engine as the latest-generation Chevrolet Corvette Z06. Whereas the Z05 delivers 650 hp, the new Cadillac CTS-V pumps out 640 hp and 630 lb-ft of torque.
This engine is then mated to a paddle-shift eight-speed automatic transmission driving the rear wheels. With the launch control function enabled, the 2016 Cadillac CTS-V rockets to 96 km/h (60 mph) in just 3.7 seconds as well as a top speed of 320 km/h (200 mph).