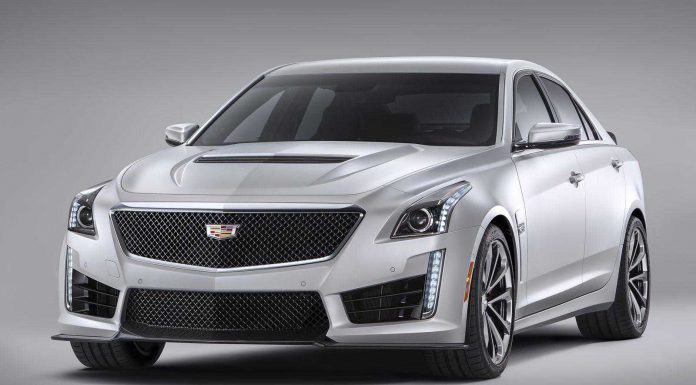 The 2016 Cadillac CTS-V has been officially unveiled before its makes its world debut at the Detroit Motor Show 2015 early next month. The third-generation Cadillac CTS-V is the most powerful production car ever created by the American manufacturer and it aims to take the fight to cars like the BMW M5 and Mercedes-Benz E63 AMG.
Beneath the skin, the 2016 Cadillac CTS-V uses the same 6.2-litre supercharged V8 engine as the latest-generation Chevrolet Corvette Z06. Whereas the Z05 delivers 650 hp, the new Cadillac CTS-V pumps out 640 hp and 630 lb-ft of torque. By comparison, the outgoing CTS-V pumps out 556 hp. This engine is then mated to a paddle-shift eight-speed automatic transmission driving the rear wheels. With the launch control function enabled, the 2016 Cadillac CTS-V rockets to 96 km/h (60 mph) in just 3.7 seconds as well as a top speed of 320 km/h (200 mph).
Cadillac claims that the 8L90 transmission used delivers performance to rival the very best, dual-clutch transmissions alongside the smoothness and refinement of a conventional automatic complete with a torque converter.
For the new CTS-V, Cadillac engineers also focused heavily on strengthening the car's structure to improve handling. With this in mind, the 2016 CTS-V makes use a of a prominent front strut tower brace, V-braces in the engine compartment, a strengthened rocker bulkhead, stronger rear cradle-to-rocket braces and an aluminium panel at the front of the chassis alongside upper tie bar-to-bumper braces. All told, the new body of the new Cadillac CTS-V is 25 per cent stiffer than non CTS models.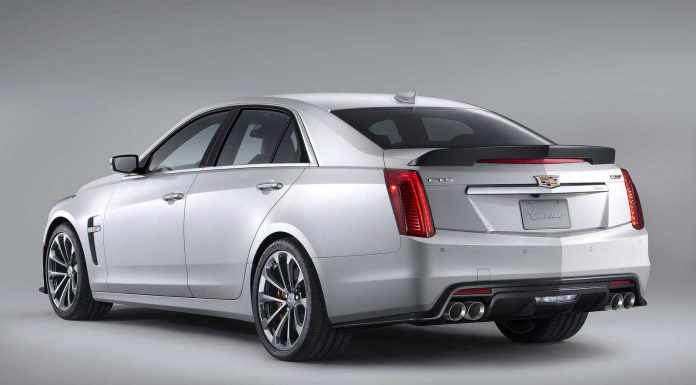 Discussing these strengthening measures, Cadillac chief engineer David Leone said, "With the stronger body structure – and more than a decade of V-Series production models and the CTS-V racing program experience – engineers tuned the CTS-V to deliver greater body motion control for a more agile feel, while maintaining excellent ride quality. The result is class-leading capability on the highway or track, balanced with luxury and refinement."
From a braking standpoint, the 2016 Cadillac CTS-V features six-piston Brembo calipers at the front alongside 390 mm discs as well as four-piston calipers at the rear and 365 mm discs. Other key technical features of the new CTS-V are Magnetic Ride Control and Performance Traction Management with four separate settings available for the electrical systems. These are Tour, Sport, Track and Snow.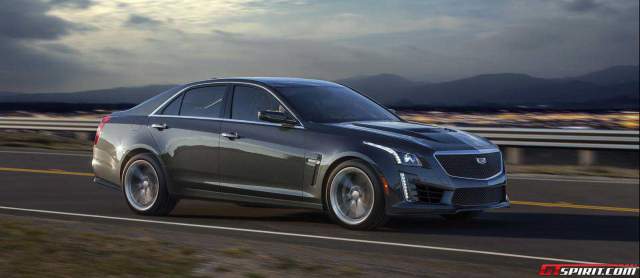 Visually, almost every exterior panel of the new CTS-V is bespoke. Some of the key highlights include a lightweight carbon fibre bonnet with a prominent air extractor, larger air intakes at the front alongside a thoroughly revised and more aggressive fascia. Additionally, a front splitter can be found while at the rear, the 2016 Cadillac CTS-V features quad tailpipes as well as a prominent bootlid lip spoiler.
Discussing the car, Cadillac president Johan de Nysschen said, "V-Series represents the very best of the Cadillac brand – the pinnacle of our design and technical capabilities. The new CTS-V is the most compelling example of Cadillac's product substance and brand trajectory. The new CTS-V soars into the stratosphere of the most exhilarating luxury cars."